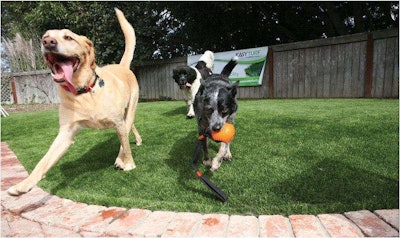 For those clients who always have concerns about pets ruining a lawn, there may be a grass to help save the day.
Dog whisperer, Cesar Millan, has introduced EasyTurf artificial grass to help eliminate common lawn problems associated with pets.
EasyTurf looks like natural grass, but it help eliminate common problems with pets like brown spots from urine, tracked in mud, grass clippings and can help deter dogs from digging holes.
Fibers within the turf help create a safe, cushioned space for pets to play and train.
The company conducted a case study at Guide Dogs of the Desert International, which is a facility that breeds, raises and trains certified guide dogs to help the blind.
The turf was installed in May 2007 on 2,830 square feet. The turf helped eliminate dirt in the kennels, around the office and dormitories, as well as keep the training and play area clean.