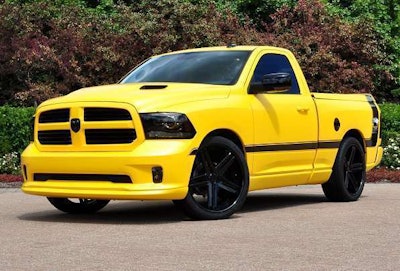 An unusual scene unraveled in Detroit recently when Ram took center stage at the Woodward Dream Cruise.
According to our sister site, Equipment World magazine, the Ram 1500 Rumble Bee created quite the buzz at the classic car event.
Using inspiration from the original Rumble Bee back in 2004, which originally took inspiration from the legendary Super Bee, the Ram 1500 Rumble Bee features a matte Drone Yellow paint job with a decorative black stripe on the bed.
With 24-inch wheels, the truck includes headlights shaped into a honeycomb pattern.
Ram also revamped the logo and called it "Speed Bee," which is found on the interior and exterior of the pickup.
Getting down to the details, the truck is a two-door 2013 Ram 1500 R/T powered by a 5.7-liter HEMI, which features 395 horsepower and 407 pound-foot of torque, mated to a TorqueFlite 8-speed automatic transmission.
The truck also features an 8-speed rotary shifter knob that lights up with a honeycomb pattern and has an actual bee incased in amber inside.
For those wanting to purchase this truck, don't get too excited. Ram won't be rolling this truck model off the production line just yet. However, the company noted it would be interested if there was enough customer interest.