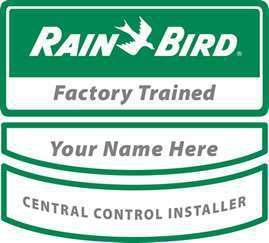 Rain Bird is gearing up for a new year of training after it recently released its 2013-14 training season schedule that features more than 90 locations nationwide.
All of the classes are pre-approved for Irrigation Association's (IA) continuing education units (CEUs).
Including classes on installation, operation and maintenance for Rain Bird systems, the Rain Bird Factory Trained Program requires contractors who learn "installer," "operator," "technician" or "expert" designations to re-test every three years to stay up to date on the latest trends and techniques.
The Rain Bird Academy trains professionals on a variety of skill levels in a few days.
Five preparatory classes include:
• Certified Landscape Irrigation Auditor
• Certified Golf Irrigation Auditor
• Certified Irrigation Contractor
• Certified Irrigation Designer
• Certified Irrigation Technician
The Rain Bird Academy Boot Camp is designed to help new industry professionals learn how to install and maintain irrigation systems. The four-and-a-half-day boot camp offers a hands-on learning experience. Topics covered in the camp include irrigation installation, technical skills, landscape irrigation design and efficient irrigation scheduling.
To register for an event or to learn more about training events, visit rainbirdservices.com/training.