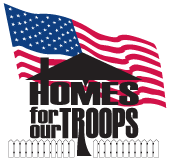 Volvo Rents has partnered with HGTV and DIY Network star, Ahmed Hassan, to provide landscaping and yard makeovers for three homes being built and donated by Homes for Our Troops (HFOT).
HFOT began construction in September in Temecula, California, and the other two in El Cajon, California.
The homes will be designed to provide a living space for severely injured veterans.
Receiving a new home in Temecula, California is Army SSG Wallace Fanene, who returned home from his second deployment to Iraq after losing his right leg and right lower arm in an IED explosion.
Neighboring homes being built in El Cajon, California will go to Marine Cpl Travis Greene and Army SGT Odin Ayala. Greene returned home from his third deployment to Iraq when he sustained significant injuries during an IED attack while assisting in a med-evac of another wounded Marine. The injuries resulted in the amputation of both Cpl. Green's legs.
Returning home from his third deployment to Afghanistan, Army SGT Odin Ayala sustained significant injuries after stepping on an IED while on foot patrol, causing him to lose both of his legs and substantial injuries to his left hand.
Volvo Rents has helped build approximately 50 homes for veterans since it started the partnership with HFOT in 2011.
Other contributors include, Hunter Industries, Village Nurseries, Corona Tools and Genie Industries.