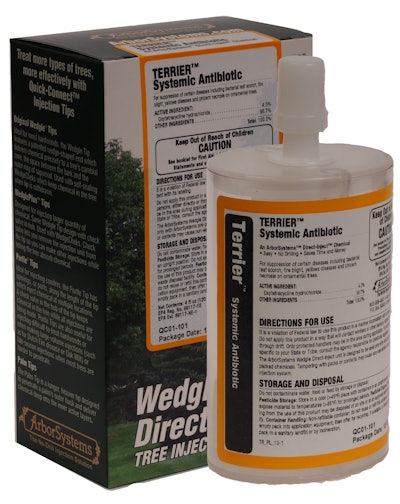 ArborSystems has introduced a trunk injection treatment to help keep trees healthy.
The antibiotic, direct-inject chemical line is used in the company's Wedgle Direct-Inject Tree Injection System for ornamental trees, large woody shrubs and palms.
The line has two chemical products for the trunk injection treatment: Terrior Antibiotic and Springer Antibiotic.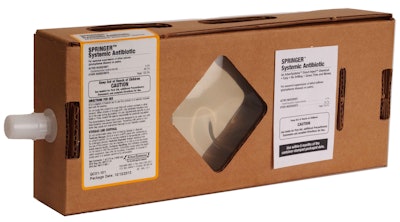 The Terrior Antibiotic is available in 120 ml and 1000 ml Quick-Connect Chemical Packs and treats Bacterial Leaf Scorch in Elm, Oak, Sycamore, Oleander and Sweet Gum trees. The antibiotic also treats Fire Blight in Mountain Ash trees, Ash Yellows in Ash Trees and Phloem Necrosis in Elm trees. The 120 ml pack can treat approximately 20 trees with 12-inch DBH.
The Springer Antibiotic is available in 1000 ml Quick-Connect Chemical Packs and is for seasonal suppression of yellow disease in palms.
The antibiotic can be used at anytime during the growing season, and the 1000 ml pack treats approximately 25 palms with 12-inch DBH.
Both antibiotics contain Oxytetracycline Hydrochloride.
The Wedgle is a no-drill tree treatment system that does not require the uptake of chemicals, guarding during the draining process, power or pumps.
The system injects the antibiotic into the flare or base of the tree to distribute the treatment evenly through the tree's vascular system to fight against insects, pests and diseases.