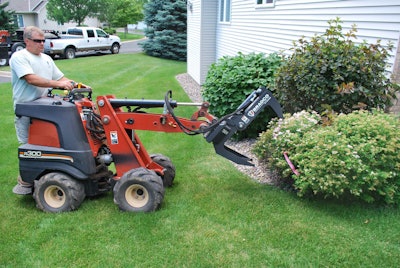 Paladin Attachments has introduced the Bradco Tree and Shrub Grapple.
The grapple is mounted on compact tool carriers and can remove small trees, shrubs, ornamentals and small stumps.
Featuring hydraulics, the grapple can remove a whole plant, including the stump, tap and secondary root system, in one step.
The company tested the grapple at a residential condominium site, and the contractor was able to remove more than 50 small trees and shrubs in three hours.
Constructed of half-inch AR 400 and AR 235 steel, the grapple weighs 185 pounds with a maximum working pressure (PSI) of 3,000 pounds.
The grapple can also breakup and remove asphalt driveways, remove small stumps and other similar-sized materials.