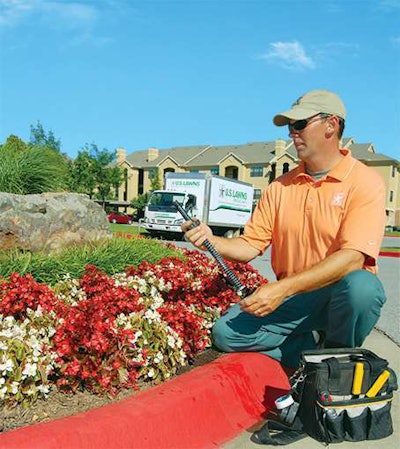 For some landscapers, giving advice to other landscapers – or asking for their help, for that matter – would be akin to rival football coaches swapping playbooks. But Billy Stain does it all the time, with no fear of revealing competitive secrets.
It's not that Stain is a foolhardy businessman. It's just that as the owner of two U.S. Lawns franchises, one in Little Rock, Arkansas, and another in Springfield, Missouri, Stain has access to hundreds of colleagues nationwide with whom he can bounce off ideas, swap information or just commiserate and talk shop.
"I still stay in regular contact with another franchisee in northwest Arkansas who bought a franchise right around the same time I did," Stain says. "We had a friendly competition going to see who could grow the fastest. We set the bar higher for each other."
Aided by the support services provided by U.S. Lawns, growth has come easily for Stain, a former computer programmer.
"I think I could have started a similar business and done well," Stain says. "But I couldn't have grown as fast as I did without the (franchise) systems in place. I didn't have to reinvent the wheel. All I had to do was use their proven system."
From craftsman to businessman
Stain is one of about 260 U.S. Lawns franchisees in 42 states, with 25 to 30 more coming on board annually. And his success illustrates the advantages franchises provide, says Brandon Moxam, director of franchise recruiting at U.S. Lawns, a commercial-landscape maintenance business.
"There's an old adage that says you should work on your business, not in your business – build and develop it," Moxam says. "The idea is to get a crew started, add more business, replicate that crew, add more business, replicate another crew and so on.
"It's attractive because they don't have to do the business completely on their own," Moxam adds. "There is a process in place, for everything from cold-calling prospects to putting together estimates to job scheduling and employee training."
The same concept applies at Border Magic, which along with another company it owns, Boulder Design, operates 188 franchises nationwide. Border Magic designs and installs continuous concrete-landscape edging, and Boulder Design designs and installs custom landscape rocks and signage, says Les Sander, the company's national franchise representative.
"Our franchise systems continually improve, thanks to franchisee input," he notes. "Our systems show them how to do things like install the product, treat customers, do estimates, close a sale and take care of customers after a sale. They don't have to reinvent the wheel – just follow the system, and it'll work for you."
Strength in numbers
The networking aspect is invaluable, says Eldean Bergman, the owner developer for Border Magic. He notes franchises automatically come with a built-in network of colleagues who can tell each other what works for them and what doesn't, point out problems to avoid and so forth.
"We all grow together," Bergman says. "We're constantly talking with franchisees who come up with something new that can help improve our system. We check their ideas to see if they're valid, then incorporate them. And just as importantly, we also stop people from investing in ideas that won't work."
Training plays a big role in most franchise operations. At U.S. Lawns, for instance, franchisees receive a week of formal training. For several more weeks, they receive additional training and guidance from one of eight regional advisers.
After that, franchisees receive ongoing support from their advisor and have opportunities to meet in local groups. In addition, the company holds annual regional conferences and one annual conference. Ongoing webinars and other educational opportunities are also available, Moxam says.
At Border Magic, franchisees receive three or four days of formal training, as well as on-going education and an annual meeting that, like the one at U.S. Lawns, offers educational seminars and a chance to meet fellow franchisees.
"It's a great opportunity to trade information in a non-threatening way, because each franchisee works in a protected territory," Moxam points out.
Saving money and standing out
Another advantage offered by some franchises: increased buying power through volume discounts. For example, U.S. Lawns leverages its franchise base to obtain discounts from lawn mower and service truck manufacturers, who offer lower prices in exchange for larger sales volume.
In other instances, franchises allow landscapers a point of differentiation in extremely competitive markets by offering a more specialized service.
"It's a way for them to stand out from the crowd without having to invent a new product," Sander notes. "Lawn maintenance can be a tough racket to make money in because pricing is so competitive. But getting into a unique product line can remove that cut-throat element."
Sander, Bergman and Moxam say their franchisees come from all walks of life, and there's no minimum education level required. Some are landscapers who want more business support. Some do 180-degree career turns, such as Stain, who also has a Master of Business Administration (MBA) degree.
Some are retirees who want to invest in a sustainable business that affords them a certain degree of lifestyle flexibility. Yet others want to run their own business but find it's difficult to obtain financing because of today's tighter credit requirements.
Taking care of business
In the end, franchises aren't for everyone. Some can't stomach the initial costs of investment or chafe at the rules, requirements and monthly royalties. At U.S. Lawns, the franchise fee is $34,000 (less for existing landscape businesses with certain levels of annual gross revenue), and that doesn't include expenses such as equipment, tools and operating expenses.
Franchisees also must have a minimum net worth of $100,000, liquid assets of at least $25,000 and pay royalties of three to four percent of monthly income.
At Border Magic, there's a $25,000 franchise fee, and candidates should expect to spend roughly $35,000 for training, equipment and the like. Other financial requirements can vary slightly, depending on circumstances.
But in general, the company prefers to see franchise candidates with a minimum net worth of $250,000 and liquid capital of at least $30,000. Royalties are $250 a month for the first six months and $400 a month after that.
On the other hand, franchises can strengthen a weakness of many a small entrepreneur: lack of business acumen.
"People get caught up in wanting to be on every job. They put themselves in this box, and they can't get out of it," Moxam says. "You need to be out talking to prospects and existing customers. There's a time and a place for someone to be a craftsman, and time and place for someone to become a businessperson. Our franchise allows you to become that businessperson."
Stain agrees, noting being a franchisee forced him to focus more on sales and building a sustainable business, as opposed to micro-managing employees and day-to-day operations or always working in the field.
"I haven't sat on a lawn mower in a long time," he says. "Franchises aren't for everyone, but if you can follow the systems they have in place, you're much more likely to succeed. The success of the business still rides on me. They just give you a great deal of assistance."
By Ken Wysocky