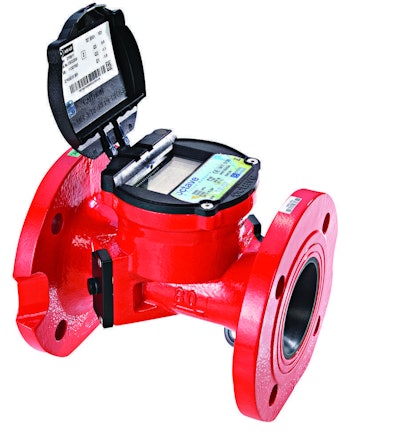 Attendees at the Irrigation Association Show in November will get a first look at Octave.
Octave from Netafim USA is an ultrasonic water meter that utilizes double-beam sensor to monitor flow.
Flow data can be measured efficiently with Octave, because the water flow path is unrestricted.
The meter's measurement method is based on dual-beam sensors that determine the length of time it takes an ultrasonic wave to travel the distance between two sensors located in the meter's body.
The sensors alternate as both senders and receivers with the ultrasonic waves travelling both with and against the direction of the flow. The flow rate is determined by the time differences between the two waves.
Featuring a LCD display, Octave includes volume units, flow-rate units, flow director, leak detector, alarms, errors and more.
Octave is available in sizes from 2 to 12 inches and monitors flow ranges from 1 GPM to 5,500 GPM. The pulsed output module allows integration with most landscape controllers. The working pressure is 175 psi.