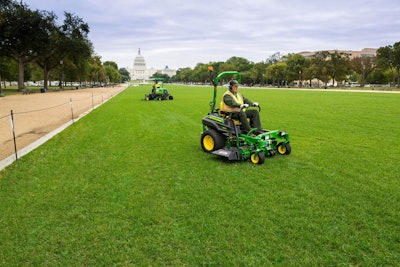 In honor of National Public Lands Day, John Deere will be donating more than $400,000 of equipment and attachments to restore and maintain the turf and grounds at the National Mall in Washington, D.C.
John Deere, the Trust for the National Mall and the National Park Service gathered to make the announcement.
The multi-year restoration will improve the ability of the National Mall to serve the public need for national celebrations, demonstrations, festivals and other special events.
Equipment from John Deere will be used from 3rd Street to 7th Street on the National Mall. The equipment will also be used in the planned restoration of the rest of the National Mall grounds, which is set to begin in 2014.
John Deere donated a wide variety of grounds care equipment, including a commercial-grade Z925M Flex Fuel ZTrak mower.
Some of the equipment operates with alternative fuel, which is compatible with ethanol blends up to E85.
Other donated equipment:
Terrain Cut 8800 rotary mower with B20 biodiesel conversion kit
1565 front mower with biodiesel conversion kit and hard cab
4720 compact utility tractor with loader, backhoe and other Frontier attachments
TX Turf Gator utility vehicle with deluxe cab
Two ProGator 2030A utility vehicles and HD 300 SelectSpray Sprayer
Aercore 800 and Aercore 2000
TC125 materials collection system
1200A bunker rake
X739 lawn tractor, snow blower and other attachments
In addition to providing equipment, John Deere and local John Deere dealer, Finch Services, will provide training and service.