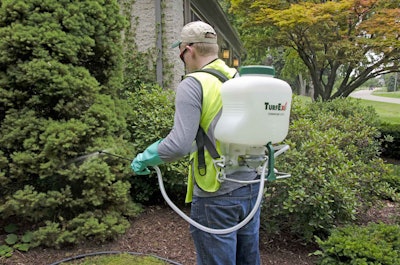 TurfEx's TL40D backpack sprayer and TL20 handheld sprayer have been designed for professional application.
The sprayer and the backpack can handle liquid chemicals including fertilizers, herbicides, insecticides and pesticides.
Featuring an empty weight of 13 pounds, the TL40D backpack sprayer includes a 4.3-gallon tank with a cone-shaped bottom to ensure all liquid flows to the manually pressurized diaphragm pump.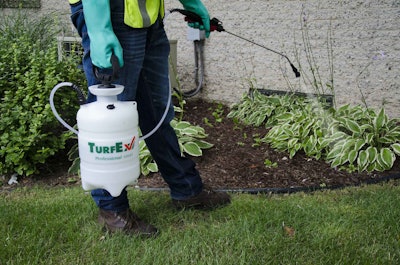 The sealed, dual-stage pump is centrally located at the bottom of the tank to allow consistent spray pressure and flow.
A handle on the backpack allows the unit to be pressurized and can be switched from one side of the tank to the other.
The unit provides a maximum spraying distance of 25 feet and pressure up to 70 psi.
Featuring a 2-gallon tank, the TL20 handheld sprayer has a high-efficiency pump and contains professional-duty seals and O-rings for maximum durability.
Other amenities include a pressure relief valve and a 3-in-1 accessory, which serves as a funnel when filling the tank, a filter for straining the liquid and a spray shield for focusing the applications.
Both sprayers come standard with spray wands with adjustable and flat-fan nozzles.