This year, FAE USA presented a variety of products at ICUEE 2013, including: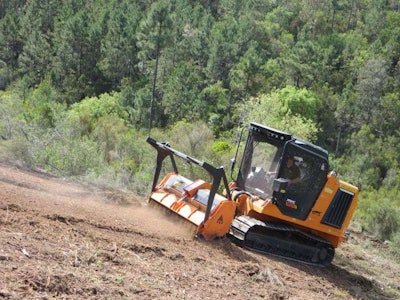 PrimeTech PT-175
160 HP – Cummins engine (QSB4.5)

Berco LGP under carriage (Berco MF200)

Ground pressure 4.25 PSI

Weight 19,000 pounds

Hydraulic system : Sauer Danfoss

Oil flow 61 GPM

Mulcher model 140/U 175 (with 110cc variable torque motor)

Cutting width 72 inches

Cutting capacity 10 inches

Winch available
Characteristics: agile and maneuverable, serviceability is a tilt cab and tilt able engine hood, swing out winch), new cab design with flat face windshield and more head room, very low ground pressure, two track options.
Applications: land clearing, vegetation management, utility maintenance, Right-of-ways, forestry and construction works.
______________________________________________________________________________________________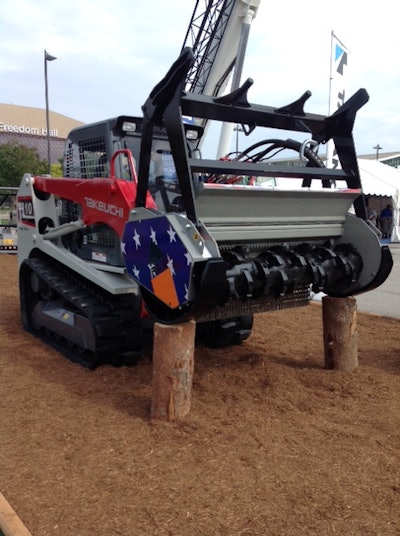 UML/SSL 150 VT High-Flow skid steer forestry mulcher
*This mulcher was Mounted on the Takeuchi Skid Steer Loader TL-12
Power required 75-120 HP

Flow required 34-53 GPM

Pressure required 2900-5000 PSI

Overall width 74 inches

Cutting width 63 inches

Cutting capacity 8 inches

FAE "smooth rotor system" with double carbide teeth

Number of teeth 32 + 2 side cutter teeth

Weight 2756 pounds
The machine's redesign includes:
It has a new lower profile

It has more Hardox steel to make it more resistant to abrasion

It had two sets of Hardox counter knives positioned inside the shell

a 110cc variable torque motor for maximum productivity

added the guide pins to the guide frame

The new mulching door has a chain system. This new system eliminates the door cylinder

Pressure gauge is standard

Skids are adjustable (3 positions)

Guide frame is adjustable (4 positions)
Characteristics: Heavy Duty, high productivity mulcher, easy to service, 3-stage cutting chamber.
Applications: vegetation management, underbrush, utilities maintenance, ROW maintenance, food plots.
______________________________________________________________________________________________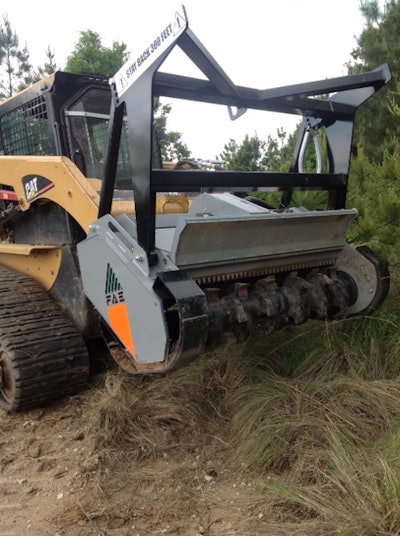 DML/SSL 150 standard flow skid steer mulcher
Power required 40-90 HP

Flow required 13-25 GPM

Pressure required 2600-3600 PSI

Overall width 69 inches

Cutting width 59 inches

Weight 1522 pounds

Cutting capacity up to 5 inches

FAE "smooth rotor system"

Reversible teeth (double life)

Number of teeth 36 (teeth are reversible)

Two sets of Hardox counter knives

3-stage cutting chamber

Standard mulching door

Standard adjustable guide frame
Characteristics: designed and built for standard flow skid steer loaders.
Applications: vegetation management, underbrush, ROW maintenance, food plots, commercial and residential.