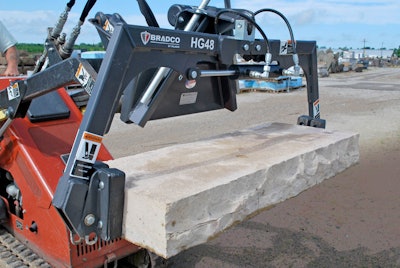 Paladin Attachments has introduced the Bradco Hardscape Grapple.
The grapple helps move heavy hardscape materials from place to place.
Mounted on skid-steer loaders, compact tool carriers and compact tractors, the grapple can handle materials such as concrete paver sections, small boulders and granite, limestone or concrete steps.
The hydraulically powered grapple arms and rubber grips adjust automatically to the shape and contour of the material being grasped.
Cylinder check valves add safety by preventing loss of clamping force even if the machine's hydraulic power is lost.
The 175-pound Hardscape Grapple has a stand that utilizes two steel tubes that have been integrated into the attachment.
The grapple can lift up to 1,500 pounds with a clamp force of 1,525 pounds. It is designed with a grip range of 18 to 48 inches, a plunge depth minimum of 13 inches and a maximum reach of 14 inches.