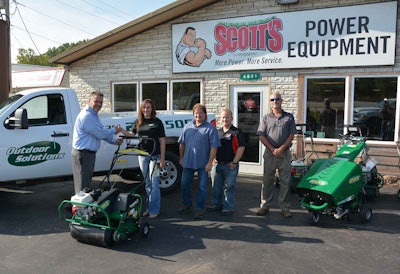 Schiller Grounds Care has announced the winner of its Ryan GreatEST Aerator Giveaway.
Emilie Montoya of Outdoor Solutions in Arnold, Missouri was selected from more than 1,200 professional landscapers and lawn care professionals nationwide.
It was after entering the contest that the company had one of its aerators stolen from a jobsite.
"This good fortune couldn't have happened to a more deserving company," says Regional Sales Manager Jim Obos, Schiller Grounds Care. "To be selected the winner of a national giveaway is pretty rare. To actually have won an aerator to replace one that was recently stolen is quite a coincidence."