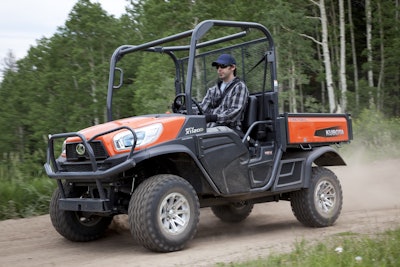 Kubota Tractor featured the RTV X-Series at the 2013 GIE+EXPO.
Available at dealerships nationwide in November, Kubota's new lineup includes the RTV-X900, the RTV-X1120D and the RTV-X1100C.
The machine is fueled by Kubota-built diesel engines and Variable Hydraulic Transmissions (VHT-X), a powertrain combination that has garnered a world-wide reputation for dependable performance.
Kubota RTV-X900 – The RTV-X900 is equipped with a 21.6-horsepower diesel engine, standard four wheel drive and standard hydraulic power steering. The two-speed in-line shift allows the operator to maintain better control and shift less often, with two forward speeds – high and low – as well as neutral and reverse.
The steel-structured frame insulates the operator from outside noise and vibrations, and front and rear independent suspension offers a smoother, more enjoyable ride even on rough terrain or when carrying heavy cargo. With standard 2-inch hitch receivers at the front and back, the X1120D has a 1,300-pound.-towing capacity. The heavy-duty, hydraulic-lift steel cargo dumping box can carry up to a half ton (1,102 pounds) and comes with a factory-option, spray-on bed liner to protect the cargo bed from dirt and damage.
Kubota RTV-X1120D – From its proven 24.8-horsepower diesel engine and higher ground speed of up to 29 mph to its blue-tinted halogen headlights and attention-grabbing polished alloy wheels, the RTV-X1120D is Kubota's new deluxe model that offers a step up in power, comfort and style.
Check out a walk-through video from their GIE+EXPO event.
[youtube zSx6yrDV15U nolink]