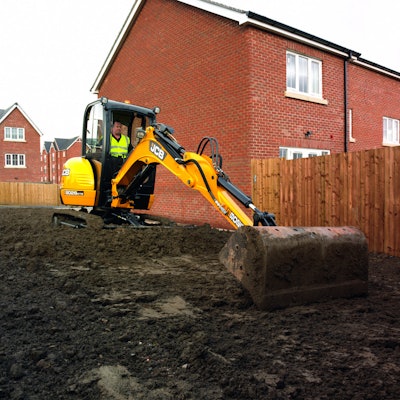 Unveiled to the North American market for the first time at the 2013 GIE+EXPO, JCB's 2.7-ton 8026 CTS compact excavator features a new valve block and short pitch tracks. The 8026 has a three-cylinder, 24-horsepower engine.
A redesigned undercarriage offers stability and durability. This stability is achieved through a swing turret that is now 1.3 incheslower. A new top roller replaces a metal skid plate, increasing the durability of the new short pitch tracks, which have been introduced to reduce noise and vibration, while also improving overall ride quality.
The open turret design and angled track legs allow the material to fall more easily from the undercarriage and help prevent build-up within the track frame. This makes the 8026 far easier to clean and maintain.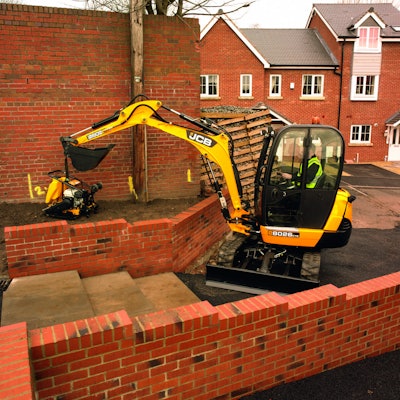 Auto kick down track motors improve onsite travel speed by 11 percent to 3.1 mph. A dedicated boom and longer dipper arm provide superior digging, loading and grading performance, with a maximum digging depth of just under 9.2 feet.
Breakout forces are balanced for higher productivity. A longer-stroke dipper cylinder and revised dig-end geometry enable the bucket to dig right up to the dozer blade. Bucket rotation on the 8026 is also best-in-class, minimizing material spillage from the bucket during loading.
A bucket-to-auxiliary changeover, similar to what is currently available on JCB's 4.5 and 8.0 ton excavators, allows the operator to switch the oil flow from the bucket cylinder via a ball valve to the quick release connectors. This means the main auxiliary line can operate one auxiliary circuit, while the bucket service can operate another – a useful option which increases the overall versatility of the 8026.
The automotive-grade cab interior includes a seat that slides further back for 2 inches of additional leg room, improving operator access and comfort. With new rubber cab mounts and a more refined cooling system, the in-cab noise level is now just 77db.