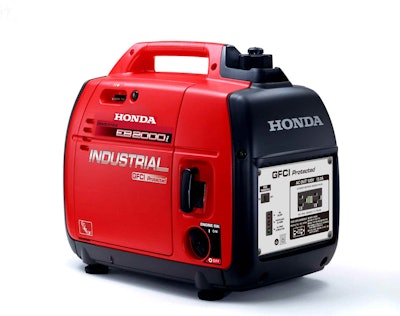 Honda Power Equipment has introduced two generators at the GIE+EXPO in Louisville, Kentucky.
The EB2000i is a 2000-watt portable generator equipped with a ground fault circuit interrupter (GFCI).
Based on its predecessor, the EU2000i, the EB2000i has all the features of its original but includes a 120V/20A GFCI receptacle.
The machine includes inverter power with a maximum output of 2,000 watts with the Eco-Throttle.
The Eco-Throttle allows the generator to conserve fuel by varying engine rpm to produce only the power required to operate the equipment.
The generator can last between four to nine hours without refueling.
Along with the EB2000i, Honda has also released the EU2000i Camo, also a portable generator with inverter technology and a Realtree high definition All Purpose Green camouflage exterior.
The EU2000i also uses inverter technology.
The models weigh approximately 50 percent less are one-third the size than trad