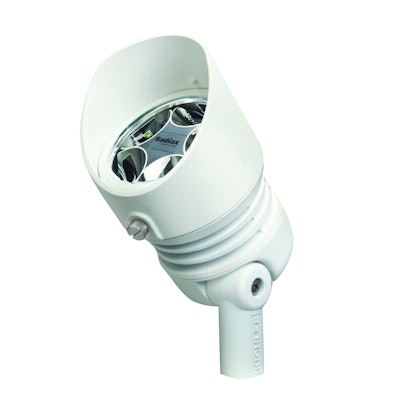 Kichler has expanded its professional-grade Design Pro LED with Radiax Optics line.
The line features a 60-degree option for 120V fixtures, Kichler's new LED 12V accent, 12V in –ground and 120V accent lights.
The 60-degree beam spread option for 120V accent lights and a white finish options for all 120V fixtures.
Coordinating white mounting accessories are also available for 120V and 12V accent lights.
Design Pro LED with Radiax Optics landscape lighting fixtures are also available in a range of Kelvin (K) temperatures for both residential and commercial applications – 2700K warm white (12V only), 3000K pure white and 4200K cool white.
Additional features include color consistency, sealed and fully potted fixtures for long-lasting, all-weather protection and a 40,000-hour lifespan.
The Design Pro LED with Radiax Optics accent lights feature an integrated medium cowl for glare control and come in three sizes: small (12V), medium (12V and 120V) and large (12V and 120V). A cast brass in-ground (12V) fixture is also included in the line. In addition 120V accents are now available in Textured White finish, as well as Textured Architectural Bronze and Bronzed Brass.
The 12V accents are available in Beach, Textured Architectural Bronze, Bronzed Brass, Textured Black and Textured White finishes.
The 12V in-ground fixtures are available in Bronzed Brass.
Accessory lenses in amber, green or frosted are also available to achieve additional customized lighting effects.