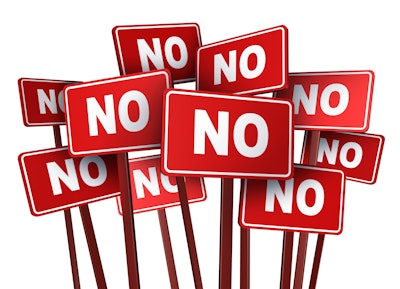 Believe it or not, there comes a time in most landscapers' careers that saying no to potential business is necessary.
With an economy that is coming back to life, more clients want more work done, but landscapers can and should only take on so much.
Evan Gay, owner of a U.S. Lawns in Temple, Texas, shares when he experienced this dilemma for first time.
"I had some people approach me that were not currently one of our customers to bid a new construction, irrigation and landscape install," Gay says. "They approached me back in February of 2013 and at that time we were pretty slow."
Gay ultimately bid the work knowing the decision could take months.
"During that timeframe we added on several customers and about the middle of May they called and told me that they wanted to use us to do that work."
Gay's crews were already spread thin, but he couldn't quite swallow turning down a $60,000 job.
"I stayed up at night trying to figure out how I was going to do this," he says.
In the end, Gay knew it wasn't fair to accept the work, because it would not have been fair to his business, crews, current clients or this particular customer.
Creating options
Sometimes there are other ways to deal with too much business instead of always having to say the word, "no."
"When you have that much demand and not much capacity, you should raise your prices," says Andrew Pototschnik, founder of Lawn Care Marketing Expert. "You're going to sign up less people, but if you raise your prices, you can have a profit margin."
The other advantage of raising prices is being able to filter out the price shoppers or the customers who may not be ideal long term.
"Not every client is a good client," Pototschnik says. "Raise prices temporarily when there is too much demand and let the customer decide whether or not they want to use you. When your demand goes back down, then you can adjust your prices down to a more competitive rate."
Another way to avoid saying the word no is to create a joint venture.
A joint venture is having a legal document or a non-compete to create the ability for landscapers to refer clients to other competitors in the area.
"In some cases, our clients are buddies with a competing lawn care company in their area," Pototschnik says. "If you can't take it on, you could get a cut of it."
When creating a joint venture, make sure the reference is a company that provides quality service and be sure to get a percentage of that sale.
The other way is what Pototschnik calls the "Zappos Approach."
If Zappos, an online shoe store, doesn't sell a particular shoe that someone is looking for, Zappos will recommend a competitor that sells that particular shoe.
"The benefit of doing that is you're still giving the best advice in that market," Pototschnik says. "Whether or not you want to give that competitor your business, you'll look good in the eyes of the consumer because you're helping them."
How to say no
When Gay determined that saying no was the best option, it was more than just turning down the job.
"After you win a bid and then you have to tell them you can't do it, it was a stressful decision," Gay says. "Even before I made the phone call, I wrote down some things that I wanted to say."
When making the phone call, it's pretty clear being polite is an obvious answer.
However, there are a few other things landscapers can do and say to help that relationship continue to be healthy.
"I would recommend that you tell them you're going to put them on a waiting list," Pototschnik says. "I would follow up (and say), 'We cant accept you right now and we want to provide the best service in our market. If we take on any other clients our service could suffer and our service to you would suffer as well.'"
Pototschnik adds that getting an email, phone number and address is key to follow up and notify that client as soon as extra capacity is available.
For Gay, the phone call went better than expected. The client respected what he had to say, and it helped his company in the end.
"A few months later, they called me back and we started maintaining two of their properties as far as landscape management," Gay says. "When they called me back, they said, 'We appreciated your honesty and that's a hard thing to do to turn it down.'"
What to avoid
One mistake Pototschnik has seen with landscaping companies, is if there is too much business – the company will just stop answering the phone.
"That's an approach, and they let everything go to voicemail," Pototschnik says. "When people call and are interested in your service, and you just ignore them or just don't answer your phone because you're too busy, that's going to make you look bad."
The second biggest mistake is not collecting the client's information.
Landscapers should always get a phone number or email to market to that client in the future.
"Send them some emails to stay top of mind, remind them you still exist and just as soon as you can handle (the business)," Pototschnik says. "Send one or two emails a month that are of value to them with information that they care about."