Custom Products of Litchfield showcased its latest products at GIE+EXPO, including an aftermarket Cozy Cab option for the John Deere X700 Signature Series and its duo-folding roll over protection system (ROPS).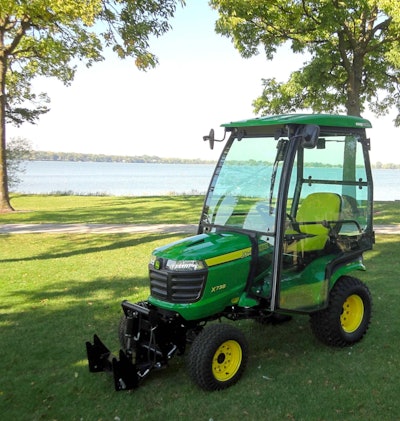 Cozy Cab
The Cozy Cab is designed for dealer installation and includes an ISO 21299 certified ROPS safety rating, vibration isolating mounts, all-steel welded construction, tinted tempered glass throughout for 360-degree visibility and a sound-absorbing roof liner complete with a fuse panel and switch panel to control lights, wipers and other cab options.
The unit has a quick installation preserving the simplicity of rear-mounted attachments using the John Deere Click N Go brackets and works with the available three-point hitches.
Standard features of the unit include LED work and dome lights, heater, defrost/circulation fan, panoramic mirrors and roof beacon.
Improvements include styling, enhanced visibility, increased head clearance and innovative fuel access cover. The cab is compatible with all Deere attachments.
ROPS
The company was granted a patent from the U.S. Patent and Trademark Office for its new duo-folding roll over protection system (ROPS).
The duo-folding feature allows the equipment operator to adjust the framework depending on operating conditions while meeting the Occupational Safety & Health Administration safety standards for roll over protection systems.
Occasionally, the overall height of the roll over protection system interferes with the function of the machine.
For example, loading the equipment into a trailer or operating under trees can be challenging with ROPS in place.
In these instances, the operator will often fold down the ROPS to gain clearance. When the ROPS is folded the traditional folded ROPS does not provide a certifiable level of protection to any safety standards.
Custom Products' ROPS meet the requirements for OSHA regulation 1928.52. With the ROPS in the up position, the protection could meet ISO 21299 or ISO 5700 certification.
The new design will allow for simple adjustment from the up position to the folded position and vice versa.