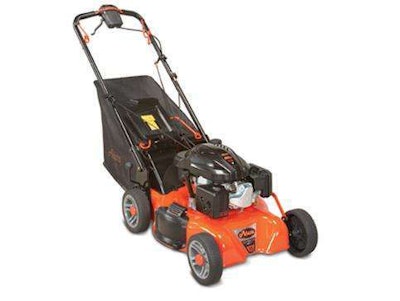 Two landscape contractors walked away winners from the 2013 GIE+EXPO.
The Ariens Company named David Gingerich and Josh Pitman winners of products from the event.
Gingerich with Jimmy Lawn Care of Junction City, Wisconsin, received the Ariens Razor Blade Brake Clutch (BBC) version of the walk-behind. The BBC option allows the engine to run while the blade is stopped.
Josh Pitman of Sanctuary Landscapes & Lawncare in Paducah, Kentucky, won the Richard Petty prize package including a Petty framed, limited edition, autographed chromium lithograph and a life sized cutout of the King along with a die-cast Gravely Nascar replica.
Booth attendees could sign up to win prizes in Ariens Company's indoor and outdoor booths. Other giveaways included a Gravely Edger, Gravely XD3 21-inch self-propelled mower, Gravely Pro-Trim string trimmer, Gravely Commercial 21-inch mower and a grand prize Gravely Pro-Turn 148 commercial zero-turn mower.