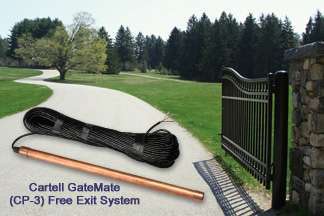 Cartell has introduced the solar-friendly GateMate (CP-3) self-contained free exit system.
The primary concern in a solar gate system is to provide enough solar power to accommodate the duty cycle of the system and the options that will be used with the system. With any solar system you must put as much power back into the battery (or more) than you are using on a daily basis.
The concern comes when the weather is not ideal, or the area of country is not conducive, the amount of watts of power needed becomes critical.
According to experts, the most serious concern for solar powered gates is not the gate itself but its accessories. Most of the time, options such as probe detectors, loop detectors, keypads, photo beams, and the like, will draw current constantly.
For that reason, Cartell's engineers have worked to keep the stand-by current draw on the GateMate as low as is scientifically possible.
While most probe detectors demand at least 1.5 milliamps in stand-by, the GateMate requires 150 microamps.