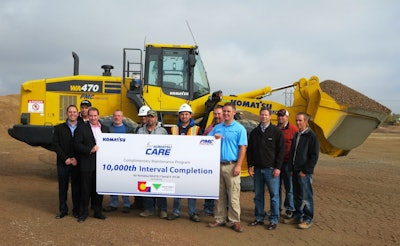 Komatsu America Corp., and its distributor Power Motive Corporation, celebrated the completion of Komatsu Care's 10,000th service interval.
Komatsu America launched Komatsu Care in 2011 to provide a complimentary maintenance program for its Tier 4 machines.
The Komatsu Care program is similar to complimentary maintenance programs that have been successful within the luxury auto industry.
Those programs, like Komatsu Care, can increase residual values on lease returns, increase the price of used vehicle sales and increase the longevity of component life.
More than 96 percent of Komatsu's Tier 4 Interim customers have received at least one Komatsu Care complimentary maintenance service since its launch in 2011.