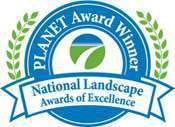 PLANET, the national trade association for landscape professionals, held its PLANET Awards and AEF Recognition Ceremony during the Green Industry Conference (GIC) in Louisville, Kentucky this year.
PLANET's Awards program recognizes the best work in commercial and residential landscape design, installation, and maintenance, as well as interior plant work, and also the best in safety and sustainability.
This year, the National Landscape Awards of Excellence were presented to 105 entries which were recognized in the following categories: 35 Grand, 34 Merit, and 36 Recognition. Four Judges Awards were announced and presented at the ceremony.
Recipients included:
Botanical Decorators, Inc. in the Residential Design/Build category
Moore Landscapes, Inc. Landscape Maintenance for Commercial Management category
The LaurelRock Co., in the Residential Landscape Management category
The Ohio Valley Group, Inc. in the Special Events Interior category.
An Audience Choice Award was also presented based on live voting during the ceremony. The winner, The LaurelRock Co., was chosen by the audience from the Judges Award recipients. Visit PLANET's website for a complete listing of all of the award recipients.
In addition, nine companies received the Sustainable Company Award which recognizes those businesses that strive to protect and conserve resources, reduce waste, and prevent pollution, and that promote an ethic of environmental sustainability within their workplace.
Winners included:
Dave's Landscape Management Co., Hudson, Massachusetts
Greener By Design, Inc., New Rochelle, New York
Pacific Landscapes, Inc., Sebastopol, California
Plantscapes, Inc., Seattle, Washington
Precision Landscape Management, Dallas, Texas
Texas Land Care, Inc., Dallas, Texas
The LaurelRock Co., Wilton, Connecticut
The Mustard Seed Landscaping & Garden Center, Chaska, Minnesota
Willamette Landscape Services, Inc., Tualatin, Oregon
The Safety Recognition Awards were also celebrated. The "Best of the Best" awards were handed out to the following companies who, for the past three years, have maintained the "Overall Safety Achievement Award – Gold Level" status:
A Cut Above Landscape Management, Fortson, Georgia
Ecolawn, Inc., Eastlake, Ohio
Fox Run Nurseries, Inc., Alexandria, Virginia
Greenleaf Services, Inc., Linville, North Carolina
Keep It Green Landscaping, Fair Lawn, New Jersey
KIRA, Inc.-Mayport/RBOSII – Jacksonville, Florida
Leo's landscaping – West Bridgewater, Massachusetts
No Ka Oi Landscape Services – Hanapepe, Hawaii
During the AEF Recognition portion of the ceremony, crystal awards were presented to those who stepped up to be last years PLANET AEF Ambassadors.
They included the Bruce K and Gail P Wilson Family Trust, Greenleaf Services, Inc., Miles and Lisa Kuperus, Stay Green, Inc., and, through PLANET's state partnership with the Ohio Nursery & Landscape Association, Fullmer's Landscaping. The newest PLANET AEF Platinum Ambassadors recognized were The Landscape Partners and David Minor, and The Toro Company.