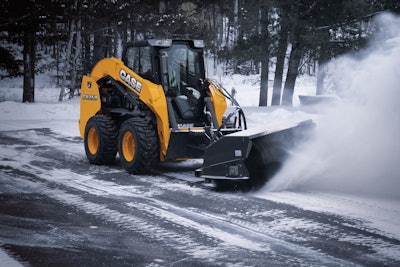 A successful snow removal business can help a landscaper's year-round cash flow, but there's more to it than just pushing the white stuff out of the way.
"If you don't love it, don't get into it," says Harry Turner, founder of TLC Turner Lawn Care, a family-owned landscaping business in Monticello, Wisconsin. "I've gone as long as 47 hours without sleep."
Long hours in negative 20-degree weather, working on holidays, equipment expenses, customers who don't pay — all of these factors will make running a snow-removal business challenging. So before jumping in, business owners should take time to research the competition, available customers and how to charge.
Research the market
Large commercial sites like banks, hospitals or mall parking lots offer one-stop plowing opportunities – but keep in mind the liability pitfalls. Also, since many of these sites are sewn up with a large provider deploying multiple trucks via sophisticated storm-tracking equipment, it may be worthwhile to research the benefits and drawbacks of signing on as a subcontractor.
Residential plowing might offer faster turn times, but it also means handling more customers, more phone calls and having a lot more people to answer to, points out Bruce Vander Vennen, president of Jack's Lawn Service & Snowplowing in Grand Rapids, Michigan. "You need to be quick to adjust. You need to memorize a lot more routes."
Reach the clients
Since word-of-mouth referrals are a luxury most newcomers don't have, Vander Vennen recommends finding clients the old-fashioned way: door-to-door advertising, direct mailing and newspaper ads.
Tom Canete, president and CEO of Canete Snow and Ice Management in northern New Jersey recommends going door to door throughout a specifically marked area to introduce the company's services. The more clients located in one area, the more the owner will be busy plowing. "You want to be working, not driving," he says.
Timing the market is also crucial. Vander Vennen locks down clients in early fall, pointing out residential customers typically won't think about snow when it's a hot summer's day. Commercial clients work on a different clock, however. "By August, property managers are thinking about snow," Canete says. "By September, it's almost too late, and by November, it's definitely too late."
Turner takes a different route to his marketing, preferring to lock down contracts before the end of August when he gets the best rates on salt. This allows him to turn around and pass some of those savings back to his customers.
Get the right equipment
Ask any business owner what works best, and you'll get a variety of answers.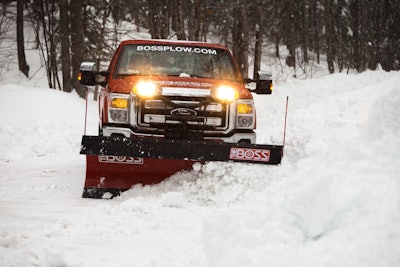 Canete uses Caterpillar snow loaders and Bobcat snow skidders, while Vander Vennen says Ebling back blades allow his team to make a cleaner, faster sweep. Turner, who prefers the stainless-steel SnowDogg plows, urges new business owners to ask, "How will this stand up to a 24 hour, four-day, non-stop stretch?" before spending money.
Two other tips include shopping for new equipment during the off-season when last year's models or excess stock can be had at discount prices, and they also suggest maintaining brand consistency to keep repair-supply expenses low.
One point all three of the business owners agree on is equipment that's usable year round offers the best value for money. "If I can use it for both landscaping and snow removal, I'll buy it," Canete says.
However, equipment care is paramount. "If it's running, it's making you money. If it's not running, it's not making you money," says Turner, who has a special building to clean and dry his plows after every use.
Manage the fixed costs
Apart from equipment, labor and insurance are the other big costs an owner will encounter.
Snow plowing means driving long hours at any time, day or night, and employees must understand what's expected of them for the entire winter season, advises Vander Vennen. "It can be a nightmare to fill a position on an established route in the middle of the year," he says.
To prevent unexpected staff departures, he makes sure his team knows the equipment, rules and expectations before the season begins. As added incentives, he offers end-of-season bonuses for perfect attendance and safe driving.
Insurance rates skyrocket when landscapers add plowing equipment to their business. Snowplows typically are bigger and wider than the trucks themselves, and in inexperienced hands, they can cause vehicle or even building damage.
One way Turner reduces his premiums is through extra warning lights and rear-mounted cameras on his trucks. Nevertheless, liability coverage is a must. "I advise maintaining at least $1 million in liability insurance because of potential lawsuits from slipping and falling in a parking lot," Vander Vennen says.
Manage the cash flow
Many clients typically pay within 30 to 45 days, which means a business needs a cash cushion to absorb the first few weeks of costs. Turner manages this hurdle by applying the last weeks of fall landscaping receivables to the first weeks of snowplowing and the last weeks of snowplowing receivables to the first weeks of spring landscaping.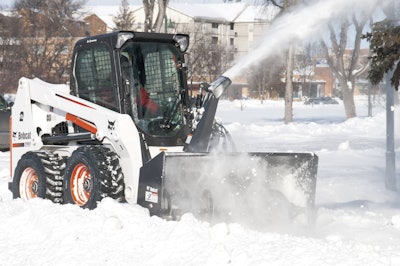 Vander Vennen takes a balanced-portfolio approach. "Some of our residential contracts are seasonal, while others, like our commercial clients, are per time and/or per push. If it snows a lot, we get more from commercial and less from residential and vice versa."
However, he reminds new business owners that commercial clients typically don't pay until 60, 90 or even 120 days after the first invoice was sent. If such long payment turn times are a problem for monthly cash flow, he recommends steering clear of commercial clients.
When a payment is missed, Turner makes a friendly phone call. "Be polite, find out what's going on and offer to work with them," he advises, pointing out while it may take a little longer to get the money, it's better than not getting any money at all. If the conversation doesn't provide a satisfactory resolution, he sends a five-day notice to pay in full.
Vander Vennen offers payment plans for late clients with the understanding that, if necessary, the services will stop and the account will be sent to a collection agency.
Successfully managing costs is the hardest part of running any business. But once these are squared away, owners can enjoy the easy part — offering good customer service.
"My dad always told me to do the best job I possibly can," Turner says. "With this type of business, it's all about service and quality. People will notice, and they will always come back."
EDITOR'S NOTE: This article was written by Gwynneth Anderson.