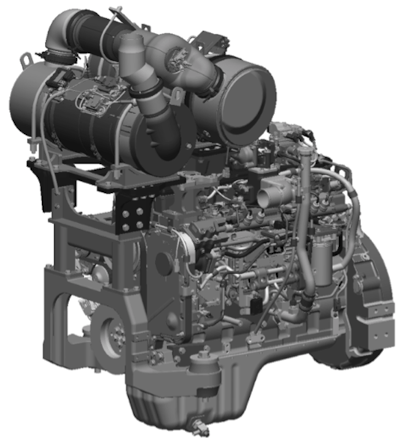 Komatsu America Corp. will begin production on EPA certified Tier 4 Final diesel engines.
Beginning this month, the Tier 4 Final technology will be integrated into Komatsu America's construction and mining engines ranging in sizes from 3.3 to 46 liters. The new engine is designed to meet EPA Tier 4 emissions regulations in North America.
All Komatsu Tier 4 Final construction machines come with Komatsu Care, which provides scheduled factory maintenance for the first 2,000 hours or three years.
Technologies Applied to the New Engines
1. Heavy-Duty Aftertreatment System
This new system combines a Komatsu Diesel Particulate Filter (KDPF) and Selective Catalytic Reduction (SCR). The SCR NOx reduction system injects the correct amount of AdBlue/DEF at the proper rate, thereby decomposing NOx into non-toxic water (H2O) and nitrogen gas (N2).
With the addition of the SCR system, a stringent design target of "fluid neutral" or better was established. In a "fluid neutral" situation, the volume of fuel burned plus the volume of AdBlue/DEF consumed is equal to or less than the total volume of fuel burned in the previous generation machine. This achievement lowers operating costs for the end customer as AdBlue/DEF typically costs less than diesel in North America.
Komatsu developed the entire system, including the control software which is critical to the effective operation of the aftertreatment system. This control system is also integrated into the machine's on-board diagnostics systems and Komtrax, Komatsu's standard telematics system, which monitors the machine's health.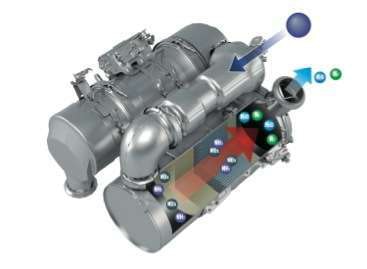 2. Heavy-Duty Cooled Exhaust Gas Recirculation (EGR) System
The system recirculates a portion of exhaust gas into the air intake and lowers combustion temperatures to reduce NOx emissions. Incorporating a high-efficiency and compactly designed cooling system, increases EGR gas flow, which reduces NOx and helps reduce fuel consumption as an additional benefit.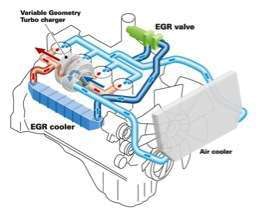 3. Advanced Electronic Control System
To ensure control of equipment in all conditions, the electronic control system performs high-speed processing from sensors installed in the vehicle and engine. While maintaining the powerful and quick response of Komatsu equipment, the precise system helps greatly reduce NOx and particulate matter emissions while improving fuel consumption and noise.
The machine operator is informed of engine conditions via the on-board color monitor inside the cab. Using Komtrax to manage the information keeps customers apprised and informed of appropriate operational factors and required maintenance.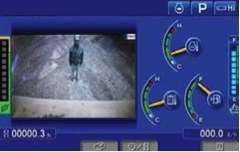 4. Komatsu Variable Geometry Turbocharger (KVGT) System
The KVGT system features hydraulic technology for variable control of intake air-flow and supplies proper amounts of air according to load conditions. The machine's control system uses the KVGT to provide exhaust temperature management for the regeneration process. The system achieves high efficiency combustion, further purification of exhaust gas and improved fuel economy.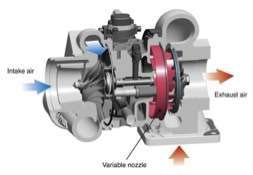 5. Heavy-Duty High-Pressure Common Rail (HPCR) Fuel Injection System
Utilizing computerized control, the system is designed for proper injection of high-pressure fuel. Building on the technology in previous Komatsu engines, the new system uses higher-pressure injection for better fuel atomization, reducing both Particulate Matter (PM) emissions and fuel consumption under the wide range of engine-operating conditions.