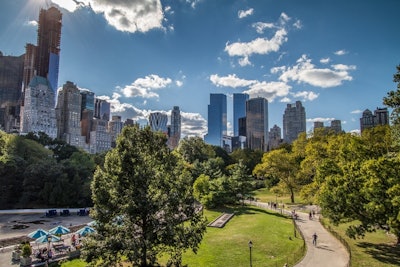 There are many different types of public parks today. From dog parks to skate parks to splash play parks, there is something out there for everyone. Planning and designing a public park is what makes the difference between a "so-so park" that gets some attention, and a popular, landmark park that stands the test of time. As you begin designing a public park in your community, consider the following factors.
Know the market
Catering to the community may seem like an obvious element when designing a public park, but it is a concept that many designers completely overlook. The bottom line is that if you don't know your market and the needs of your community, you will have a tough time designing a successful park. For example, if you put a skate park in a neighborhood that is primarily families with babies and toddlers, it is unlikely to get much use. A large park with a paved trail and playground equipment would be a better choice.
Maximize the potential of the community for ideas and inspiration. Community members can offer historical perspective, details about general community functionality and the priorities of the residents. When locals are allowed to have input, they have a sense of ownership in the initiative.
Create a place, not a design
If the goal is to create a place, designing a public park is not enough. The setting must convey a strong sense of community, have a comfortable aesthetic and include the potential for activities and interactions. It is easy to put these ideas down on paper, but it is a much bigger challenge to accomplish them. Think about seating and landscaping as well as large-scope changes that connect people to the space, such as walking trails from surrounding retail stores into the park.
Many communities also struggle to find the perfect balance of fun and safety. As there are more and more playground equipment regulations, some parks have become so safe that they are no fun anymore. The key is creativity. For example, instead of simply modifying an existing design to enable wheelchair accessibility, create a brand new multidimensional design.
Options for multiple activities and socialization
What activities and socialization opportunities are important to the local community? For example, do the high school kids want soccer fields or baseball fields? Are there a lot of parents who will hang out at the park with their little kids who need ample seating at the playground? Look for opportunities to serve the community with multiple activities as well as accommodations for multiple methods of transportation and exercise, including walking, biking and rollerblading.
Don't forget to maximize the existing geography, topography, and vistas. Instead of fighting against the environment to fulfill a specific vision, work with it to offer natural visual experiences.
Unique traits and characteristics
The process of designing a public park comes from a need in the community that is not being fulfilled. What is lacking in the community? What will set this park apart from existing parks in the area and make it a desirable place for the local residents? As you begin your designs, consider the following questions:
What elements will give it whimsy, make it extraordinary or memorable, or offer an atmosphere of pleasant surprise or discovery?
Is the community going to take ownership and maintain a strong commitment to keeping the space usable and pleasant for many years to come?
Does the space have a sense of importance? What qualities or characteristics contribute to this notion?
Is the space considered sacred? Are you striving to create a park that inspires and gives people opportunities to contemplate life?
Does the public space have any history? How is this history going to be passed on or remembered from one generation to the next?
Inclusion of park architecture
There are a number of architectural park elements that can be a huge asset to a space including covered picnic areas, shelters and gazebos. Shelters offer both friendly and intimate spaces to sit and interact as well as safety in the event of inclement weather. Choose features that are appropriately proportioned for the space and serve the needs of the local community. If you do have covered picnic areas, don't forget to include additional features people will need, such as restrooms, grills and garbage cans.
EDITOR'S NOTE: Jeff Caldwell is brand manager of Superior Shelter in Carrollton, Georgia. Accepting shelter design challenges from designers, landscape architects, and architects around the world, Superior Shelter creates custom park shelters and picnic shelter designs specific to outdoor needs.