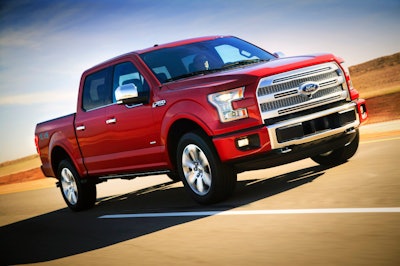 For those waiting for the 2015 F-150, you may want to wait a little longer.
According to our sister pub, Equipment World magazine and a report from The Truth About Cars, Ford is already working on a diesel engine for the F-150 that will be available by 2018.
Ford engineers are said to be developing a 3.0-liter V-6 diesel codenamed "Lion."
Ford originally ended the diesel option for the F-150 back in 2008 due to cost concerns and the potential lack of interest.
However, due to the positive feedback of the 2014 Ram 1500 EcoDiesel, the Ford F-150 team is feeling a bit of pressure.
Ford is also feeling the pressure from its main competitor, GM.
GM plans to add a diesel option to the Chevrolet Colorado and GMC Canyon in 2015.
The TTAC also reports that the Super Duty trucks won't be making the transition to aluminum bodies like the F-150. Ford has opted to continue using steel bodies for its larger trucks.