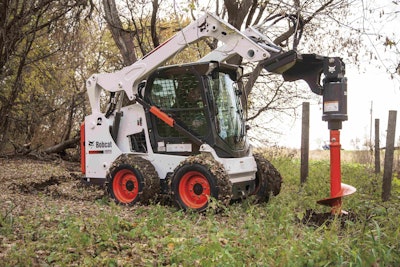 Bobcat Company has introduced two planetary drive augers to its mix of machines.
The Bobcat 35PH and 50PH augers are compatible with approved models of Bobcat skid steers, compact track loaders, all-wheel steer loaders and compact excavators.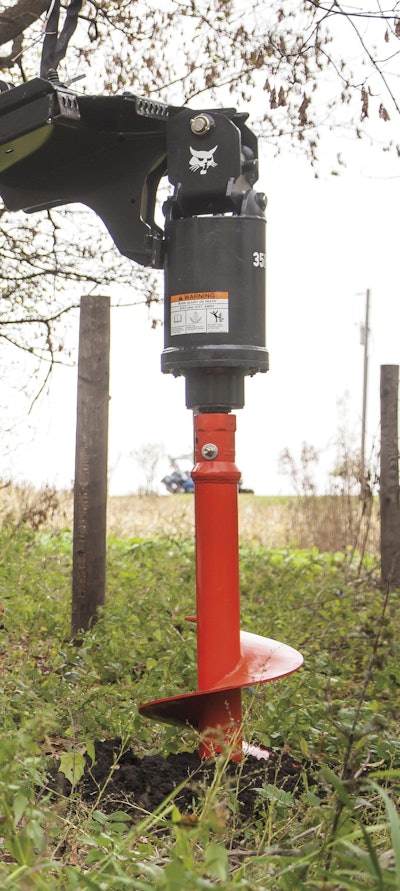 Designed with a high-torque gearbox, the units are 11.5 inches wide and 39.6 inches long.
The machines can dig to depths of 73 inches without an extension, and an optional adjustable inner extension is available to increase the digging depth an additional 48 inches.
The 35PH planetary auger provides 4,177 foot-pounds of torque at 3,500 psi, while the 50HP offers 5,291 foot-pounds of torque at 3,500 psi.
Featuring a displacement design, the 30PH and 50PH augers have smaller drive housings — less than 12 inches long. Because of the smaller housings, the machines can follow the bit into the hole for deeper digging depths.
The machines include longer rock bits that contribute to deeper holes. At 61.5 inches long, these bits are at 12 inches longer than current Bobcat auger bits. The new PH auger also has a 2.5-inch hex output shaft.
Bobcat skid steers, compact track loaders and all-wheel steer loaders can accept the planetary augers with the Bob-Tach attachment mounting system. The planetary augers can be fitted to the compact excavator-mounting frame using the Bobcat X-Change mounting system.