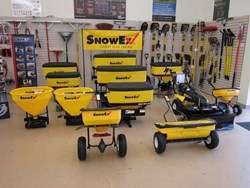 SnowEx recently announced its 2014 showroom contest winner.
The branch of Reinders in Rochester, Minnesota was named the winner and had the choice of a SR-210, SP-85 or SD-95 SnowEx spreader.
The runners up were Jefferson Hills Lawn Equipment of Jefferson Hills, Pennsylvania and Ribco Supply of Clarksburg, Massachusetts.
The showroom contest was open to all SnowEx dealers, who were encouraged to submit photos of their SnowEx product displays. SnowEx judged the participants on a variety of criteria, including best use of space, visual appearance and more.