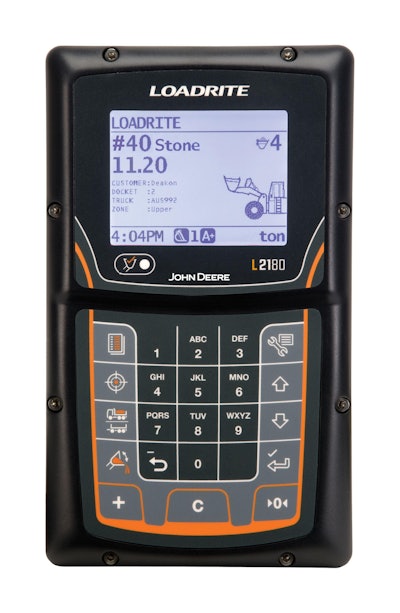 Deere & Company's Worldwide Construction & Forestry Division in partnership with Trimble has integrated the Loadrite L2180 payload scale for John Deere four-wheel-drive loaders with the JDLink Ultimate telematics system – part of the company's WorkSight suite.
Because of the scale integration with JDLink, operators can gain access to production information in real time through the JDLink Ultimate online interface.
JDLink Ultimate allows for remote analysis of this production information.
Information includes total bucket loads, trucks loaded and totals by material in addition to other JDLink data.
The Loadrite L2180 for John Deere system has a separate monitor in the cab and accommodates an optional printer for outputting load tickets or end-of-shift reports in the field.
The Loadrite L2180 for John Deere scale is available now on all 444K-844K models. Additionally, all Z-Bar and High-Lift K-Series Loaders shipped by John Deere will be pre-wired for installation of the Loadrite L2180 system.