We've all been there and asked the same types of questions:
"What is Twitter?"
"What is this hashtag thing?"
"What's the point?"
"Where do you even start?"
However, it's time for landscapers to stop asking the same questions over and over and finally get some answers to those questions.
To help, Total Landscape Care's Patty Vaughan spoke with Ryan Jacobs, owner of Ryan's Landscaping (@RyanLandscaping) in Hanover, Pennsylvania. Jacobs gave insight on how he and his company have used Twitter to advance his business.
Q: How long has your company been using Twitter?
A: I think we have been using it for four or five years. When I first set up an account, I just let it go over time. I really wasn't sure how it worked and what all was involved with it. I just let it go for a while and then smartphones came along and became more advanced. I really started getting back into it.
I wanted to gain more followers. I started getting active in it by commenting on people's posts and interacting with other people. It grew from there and took off.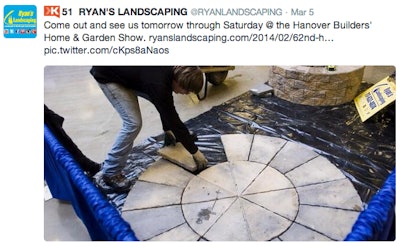 Q: Why did you get involved with Twitter?
A: I guess I wanted to look more reputable. It looks good when you have a lot of followers, and I wanted to get my content out there. A lot of landscapers follow each other that aren't in competition with each other. It really helps you out, because it's great for networking. If you have a question, you can ask someone else and vice versa.
It's funny, one reason I started using it is because there is a whole group of us that started out on Instagram. There's a hashtag called "hardscapebrotherhood." It's a bunch of guys, and we are each other's backbones for jobs with tips and tricks. We started having conversations there and gravitated into other social media, including Twitter. Some guys were active on Twitter, and I wasn't. Those guys had been successful with it, and I wanted to be as well. We'll use that hashtag to communicate back and forth, and it's another key term that they can use to find each other.
Q: What types of tweets do you send out and why?
A: I know my biggest thing is I want to get local followers. For my area, I have done research and searched a hashtag for my town. I'm gearing toward many news stations or local papers and pulling the local county or surrounding counties around me. We do have some conversation back and forth. A lot of the content published on there is new blog posts to drive more traffic to our website and different projects that we have done. We tweet pictures of progress of our jobs, a home show, news-related articles and definitely other social media like Pinterest. We tweet different pins that we have done, as well as other social media stuff to try and build some of our social media networks. We tweet about everything that is the landscaping and hardscaping trade.
I don't get my personal life in my business account. I'll use my kids a lot, and I'll put pictures of them holding up my signs or wearing apparel with logos. That usually gets pretty good retweets or favorites. When they know you have kids and you're a family man, they might be more likely to use you than a big company.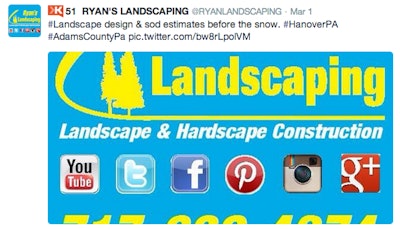 Q: How has Twitter affected your business?
A: People ask me all of the time, 'Why are you on Twitter?' and 'What do you get from it?' I just tell them it's more business to business. Around a year and a half or two years ago, I gave an estimate for a large patio and outdoor living area, and they said, 'I have been following you on Twitter for a while'. I was shocked, and that's why I got into it. That's why I'm trying to get more local followers so I can get my content out to the local area and use it as a tool for marketing. It is free, but you just have to put some time into it.
I was talking with someone from the local area. I shared a pin from a blog, and they asked me if I had any outdoor bars. I tweeted them a pinboard from Pinterest from an outdoor kitchen that we did. They tweeted back saying, "This might be something we can invest in." I sent a link to my email and said, "Whenever you're ready, go ahead and this is how you contact us." The more local people I can connect to, the more it has been beneficial to our business.
Q: What are things landscapers should consider when using Twitter?
A: One thing is they shouldn't be afraid of it. I think a lot of guys who are older want to get into it, but they're just afraid or don't know where to start or they don't want to pay money to a company to get set up. There's nothing to be afraid of. When you first get set up, you're starting up, and you don't have any followers. You can play around with it and look at other accounts and tweets. Get the hang of it because you have nothing to lose. I've gotten jobs off it before, so it's beneficial in that aspect.
It has opened a lot of different opportunities for me on a higher level in areas that I would have never come across. As far as information, I have learned about a lot of different hardscape seminars and different classes on hardscaping. If I wasn't on Twitter, I would have never known about them. It's very informative. You can never stop learning.
It keeps you up to date. Maybe they're stuck in the past, and they need to find a way to relate to their younger clientele. I know different times I have stuff on YouTube, and clients love when I publish their project. We'll make an album of their project or a YouTube video. One thing on Twitter is that you can send them a link to that YouTube video or Facebook album and tweet it to them and they can share it.