Takeuchi took center stage at ConExpo last week after it introduced six machines at its booth, including four compact excavators and a compact track loader.
TL8 Tier 4 Compact Track Loader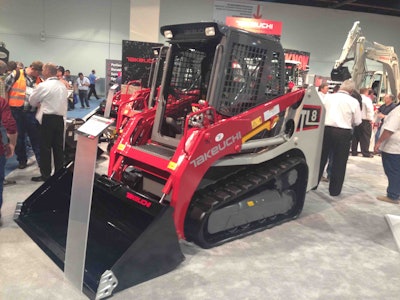 Replacing the TL230 Series 2, the TL8 from Takeuchi is a compact track loader that features a radial-lift loader design, weighs 8,345 pounds and has a tip load of 6,020 pounds.
Powered by a 74.3-horsepower, turbocharged Kubota engine, the TL8 meets EPA Final Tier 4 emissions standards.
The machine includes a high-pressure common rail injection system, diesel oxidation catalyst (DOC) and diesel particulate filter (DPF).
Double reduction planetary drives provide traction forces of more than 9,100 pounds.
The machine features bucket breakout forces exceeding 6,800 pounds and loader lift arm forces of over 6,700 pounds.
For reduced flotation, a 15.7-inch track is now standard and helps to reduce the ground pressure to 4.4 psi.
Rated operating capacity (ROC) has been increased by more than 13 percent to 2,105 pounds, and can be boosted by more than 10 percent by adding optional rear counterweights.
TB216 Tier 4 Compact Excavator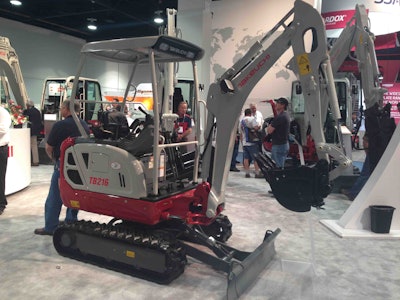 Replacing the TB016, the TB216 features an updated modern profile that houses a Yanmar Tier 4 Final engine, producing 15 horsepower.
Weighing in at 3,900 pounds, the compact excavator features a retractable undercarriage, which features a two-speed planetary travel motor that delivers a maximum of 2.6 mph travel speed and comes with an automatic shift down feature.
The 9-inch wide track helps provide a low-ground pressure of 4.3 psi.
For backfilling and cleanup work, the dozer blade is equipped with bolt-on extensions that can be removed to reduce the overall width of the machine to 38.6 inches when the tracks are in the retracted position.
The machine has a bucket breakout force of 4,250 pounds and features a hydraulic system that consists of pilot joysticks.
TB240 Tier 4 Compact Excavator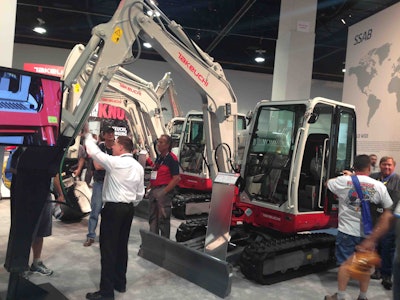 With an operating weight of 8,289 pounds, the TB240 compact excavator offers a 9,959-pound bucket digging force, which is approximately a 15 increase from the previous TB235 model. The Tier 4 computer-controlled Yanmar engine features Eco and Power modes, as well as improved fuel filtration and cooling.
Featuring the same precision pilot controls, the machine has been updated to include an adjustable auxiliary flow, as well as updated hydraulic controls.
The TB240 features a reinforced boom with larger cylinders and pins. The body has been redesigned to allow for ground-level panoramic serviceability, and features a large non-tilting operator's station.
TB260 Tier 4 Compact Excavator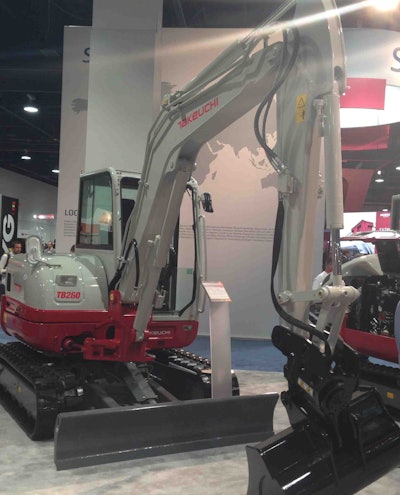 The TB260 hydraulic excavator has an operating weight of 12,509 pounds, and a 12,756-pound bucket digging force. Like the other released Tier-4 excavators, the exterior of the machine has been redesigned for better visibility and improved service access.
An added automotive-styled interior includes a multi-function monitor and switch panel, electronic throttle control, and pilot controls with dual proportional slide switches to control auxiliary hydraulic functions.
The TB260 also features a turbocharged Yanmar engine that delivers more than 47 horsepower, and is Final Tier 4 compliant.
TB290 Tier 4 Compact Excavator

One of the largest excavators in the Takeuchi line-up—second only to the 34,000-pound TB1140 Series 2—the TB290 features an operating weight of 18,780 pounds, a bucket digging force of 16,568 pounds and includes many of the same updates as the other excavators in the line.
The TB290 features the Eco and Power working modes, first and second auxiliary hydraulics plumbed to the end of the arm, boom-holding valve and overload alarm.
The machine has a 69-horsepower, turbocharged Tier 4 Yanmar engine, as well as a 15-foot dig depth and approximately 24.5 feet of reach.