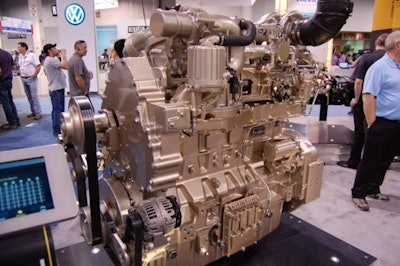 What do you do for an encore when Tier 4 Final is an established part of of the engine business?
For John Deere Power Systems, the answer is telematics.
Most big OEMs that make their own engines for their own equipment integrate engine and machine telematics.
But what about the smaller machine manufacturers, the ones that use somebody else's engines?
In that case, if the engine is a Deere, the telematics come as part of the package. Dubbed John Deere PowerSight, this telematics capability is offered in four different service levels: Locate, with just two data sets, Express and Select with five each and Ultimate with 12.
With the engine telematics, Deere engines can report back to end users a number of important data sets including location and geofencing, fuel consumption, hours, engine temperatures and health, diagnostics and maintenance issues and can also identify problems before they cause problems.
The information is sent to the end user's mobile phone, tablet device or office computer.
Some repairs, such as software reprogramming can even be done remotely.
The John Deere PowerSight program also integrates with the company's WorkSite and FarmSight technology to bring advanced levels of telematics capabilities to John Deere branded construction and agg machines.
The Deere telematics feed will also be compatible with the upcoming AEM/AEMP telematics standard.