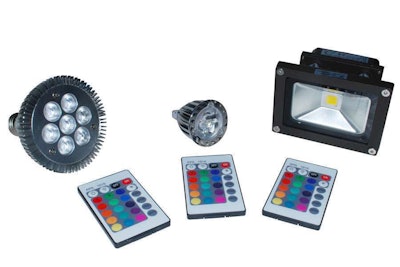 Lightcraft Outdoor Environments has released its LED color changing RGBW (red, green, blue, white) lamps and fixtures.
The RGBW lamps and fixtures utilize PCB circuit boards and IR (infrared) technology.
The fixtures come in 16 colors (including white) and four effects: dimming, fading, strobing and smooth color rotation.
The RGBW lamps and fixtures operate with a universal hand-held controller, which is included with each RGBW product.
Each RGBW lamp has a built-in receiver and captures the IR signal from the controller when in "line of sight" of each other.
Operators can choose a color, or the lighting mode desired, on the hand-held controller, and each controller can operate an unlimited amount of lamps up to 30 feet away. The controller has a universal code so that they are able to operate any RGBW products.
These products have a built-in memory and synchronization feature that remain in locked position until the signal is manually changed.
The LED RGBW lamps can operate with any fixture. The lamps can be retro fitted with most indoor fixtures. For outdoor locations, the lamps need to be installed in a covered location (damp) or in a sealed fixture rated for wet locations.
Lightcraft offers the 12v and 120v lamps in color changing RGBW, as well as floodlights, wall sconces and underwater lighting.