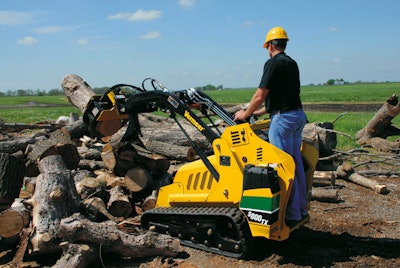 To help meet the needs of landscapers this season, Vermeer has introduced its mini skid steer, the S800TX, with a gas engine.
Featuring a 40-horsepower Kubota EFI gas engine, the machine has an 840-pound (381.1 kg) SAE-rated operating capacity with a 2,400-pound (1088.6 kg) tipping capacity.
The engine delivers 88.5 foot-pounds of torque, and the machine can dig trenches up to 48 inches deep.
The operator station features a single, pilot-operated joystick, and the spring-cushioned platform provides additional support while working through tough terrain. The operator presence system is integrated into the platform, in which the ground drive and attachment motion is suspended if the operator steps off the machine.
A universal attachment plate allows for operators to change out a variety of attachments. An optional dual auxiliary system provides dedicated high-flow and low-flow circuits.