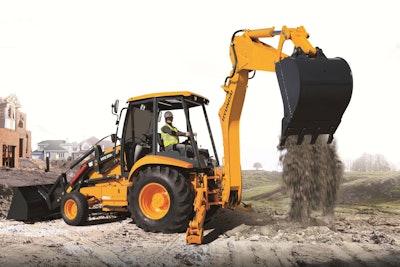 Although it's not scheduled to make its North American debut until the end of 2015, Hyundai Construction Equipment America's H930C backhoe created quite the buzz at this year's ConExpo in Las Vegas, Nevada.
Operating at a weight of 14,881 pounds (6,750 kg), the backhoe is powered by a 87 horsepower (65 kW) Tier 2 Perkins 1104C-44T engine. The engine combines new combustion technology with internal Exhaust Gas Recirculation (EGR), long oil change interval (600 hr) and an air grid heater as a cold start aid.
The H930C features a loader bucket capacity of 28.3 cubic feet (0.8 cubic meters), a trenching bucket capacity of 6 cubic feet (0.2 cubic meters) and a backhoe dig depth of 14 feet 3 inches (4,335 mm).
The backhoe's loader boom is welded with a large diameter tube, dual lift and tilt cylinders.
Featuring a four-wheel drive system, the backhoe includes a loader attachment that is equipped with an automatic return to dig function. The return to dig function returns the loader to the dig position when the operator pulls the lever.
As for controls, the operator will find pilot controls, as well as an optional extendable dipper.
Outboard, planetary gears improve serviceability while multi-wet disc brakes eliminate possible external contamination. The parking brake can be activated from within the cab by the push of an electric switch.
The backhoe is available with optional hydraulic performance features such as a load-sensing hydraulic system, which matches the engine power to the appropriate hydraulic flow based on the load demand required.
An adjustable flow control system option allows the operator to divert any unused hydraulic fluid from the second pump to the hydraulic reservoir, and a control pattern selection option allows operators to change from ISO to SAE control patterns by pressing a button.
Cab features include a tilting, adjustable steering column, hinged-type side windows and a suspension seat with full adjustment.