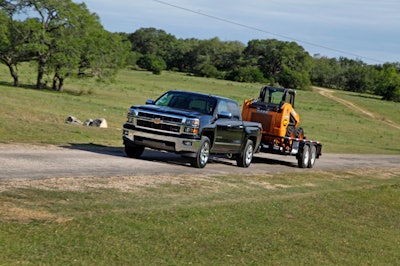 General Motors has issued a recall on all of its latest pickups due to a defect in the transmission oil cooler line that could cause a fire.
The recall affects the 2014 Chevrolet Silverado and GMC Sierra pickups. It also affects the new 2015 Chevrolet Tahoe and suburban SUVs as well as the GMC Yukon and Yukon XL SUVs.
In total, 490,200 trucks and SUVs are being called back by the automaker.
GM says these trucks and SUVs could have a transmission oil cooler line that is not properly secured.
A transmission oil leak could cause a fire. There have been three reported incidents with no injuries.
The automaker expects to mail letters to owners the week of April 28. When owners receive those letters, they can bring their trucks in to be inspected and repaired if necessary.
This is the sixth vehicle recall for GM in the last month, including the recall on 2.53 million small car models for faulty ignition switches that have resulted in 31 accidents and 12 deaths, according to USA Today.
Editor's Note: Wayne Grayson is the Online Editor for sister site Equipment World.