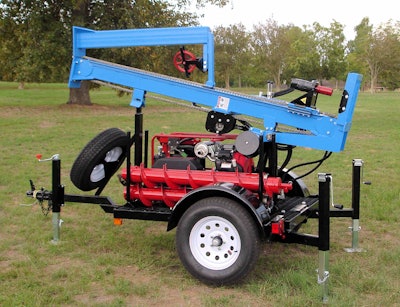 Little Beaver is making a landscaper's job a little easier when it comes to testing soils.
The company has introduced the Lone Star LS T1Geotechnical Drill, which is designed for standard penetration tests (SPT) and sampling through tough soils.
The machine is mounted to a single-axle trailer that can be towed by an ATV or small truck and comes with a SSK1 kit, which includes a tower, pulley, third hydraulic valve and a steel cathead.
The SSK1 kit allows users to perform standard penetration tests with the optional 140-pound safety hammer, split spoon samplers and AWJ drilling rod.
Stem augers are available in 3- to 8-inch diameters, and the unit is capable of drilling 6-inch boreholes down to 100 feet.
Little Beaver also offers two sizes of hollow stem augers that can drill down to 60 feet.
Powered by a 20-horsepower Honda gas engine, the drill features a 5,000-pound lifting capacity, and the optional anchor kit allows the unit to deliver more force to push beyond the trailer's weight.
The drill also features a 3,000-psi hydraulic system that operates at 10 gpm to achieve a rotary speed of 150 rpm.
The LS T1 is mounted on a single-axle trailer that is equipped with a 2-inch hitch, three leveling jacks and a spare tire.
The LS T1 Geotechnical drill has a hydraulic lift cylinder that raises and lowers the mast, which also can be folded down when the unit is moved.
The drill features an optional interchangeable head that allows operators to switch between auger drilling for soil sampling and SPT testing and mud rotary drilling for water wells.
The unit's three-way ball valve allows the operator to bypass the mudflow when changing the drill pipe, eliminating the need to shut down the mud pump. For water well drilling in hard rock, Little Beaver also offers down-the-hole (DTH) hammers that can be paired with typical jobsite 185-cfm air compressors.