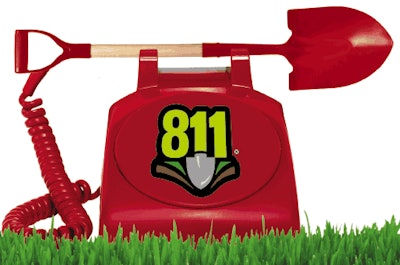 April is not only National Lawn Care Month, but it is also National Safe Digging Month.
The Common Ground Alliance (CGA) created the "Call Before You Dig" campaign, which is a federally-mandated national 811 number.
Landscapers, homeowners and any individual starting a project that requires digging is encouraged to call the 811 number to protect against unintentionally hitting underground utility lines.
When the 811 number is called, homeowners and professionals are connected to a local one-call center that notifies the appropriate utility company of the intent of the dig.
Locators are then sent to the requested digging site to mark the approximate locations of underground lines with flags, paint or both.
According to the CGA, every six minutes an underground utility line is damaged because someone decided to dig without calling 811 first.
The organization recently conducted a study that showed 51 percent of American homeowners who plan to complete a project that involves digging would not call 811 first.
"There are more than 100 billion feet of underground utilities in the United States, according to data compiled by CGA from various industry groups," the CGA says. "That figure equates to more than one football field's length (105 yards) of buried utilities for every man, woman and child in the U.S."
To help raise 811 awareness, several organizations have offered to spread the message.
Atmos Energy is hosting an "iDig It" social media contest. Those who take a photo of a professionally marked digging site can win $811.
Verizon Wireless will also be distributing hats, gloves and other items with the 811 logo to Verizon field operations personnel who have cable locating, maintenance and emergency repair responsibilities; outside plant engineering personnel who are responsible for construction, protection, location and permanent restoration activities; and excavators, locators, municipal employees and right-of-way providers with whom Verizon works.
Additionally, Verizon will outfit all of its fleet vehicles with 811 bumper stickers.
Landscapers can find the logo of the 811 campaign that states, "We support April as National Safe Digging Month" on the campaign's website, as well as a proclamation that can be signed stating a company supports underground damage prevention.