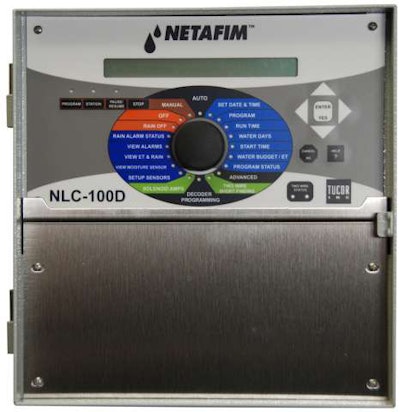 Netafim USA has introduced a new line of web-based, smart controllers for landscapers.
Tucor developed the Netafim Landscape Controllers exclusively for Netafim.
The NLC controllers can determine the water needs for a specific landscape by incorporating both historical and current weather data, as well as real-time data from soil moisture sensors that monitor the amount of moisture available to plants in each zone.
The NLC series features programming for retrofit and expansion, remote management and capabilities that allow users to adjust programming and review schedules of multiple sites from any Internet-ready-device.
The series can also integrate with Netafim's Total Cycle Management.
Developed for use in a variety of configurations from basic residential systems to large-scale commercial applications, the conventional (NLC-100S Conventional) converts a conventional system to a water-efficient remote management system, while the two-wire decoder-based (NLC-100D Decoder) can control up to 100 stations with wire runs of up to 16,000 feet.
The Hybrid (NLC-100S Hybrid) allows retrofitting of an existing controller and the addition of multiple valves to an existing system without the need for additional labor or rewiring and retrenching.
Netafim also announced the release of its NLC-3D module, a 'plug and play' interface that converts a conventional controller into an infinitely scalable, two-wire decoder–based controller that uses existing wiring.