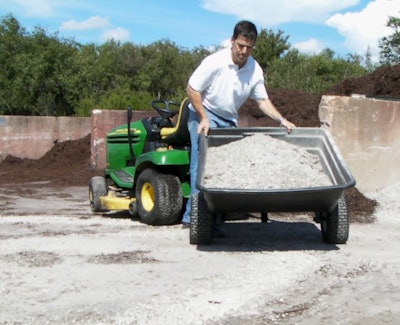 Designed to move heavy loads with a riding mower, the OxCart has been introduced for turf, lawn and landscaping professionals.
Featuring a power-assist lift, the OxCart reduces dumping efforts by up to 90 percent.
Other features include:
Run-flat tractor-grade turf tires to move heavy loads rut-free across turf, lawns and gardens
An offset dump pivot, eliminating harsh and abrupt dump release caused by heavy loads shifting
A full mandrel bend steel axle support to provide high clearance and strength to hold and move heavy loads
Todd Dechant, owner of OxCart Products, designed and tested the cart for more than three years before bringing the product to market.
His primary goals were to:
Make handling and controlling heavy loads easier
Enable users to do more with their riders
Get even bigger projects done faster than they thought possible.
The cart was inspired by lifts used to raise heavy rear doors on SUVs and minivans. The cart combines the same lift, an offset dump-pivot moved to the rear and a side-dumping featured design that delivers 60 percent more control for the user.
The side dump rotates 110 degree from either direction, and the cart includes wider tractor-grade tires to move heavy loads without creating ruts. The tires also feature run-flat technology, a liquid polymer that self-seals punctures without losing air.