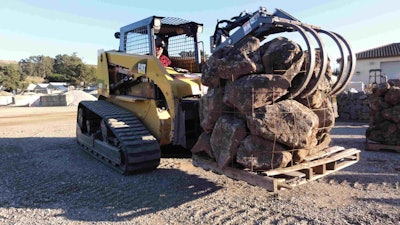 In partnership with Star Hill Solutions, Paladin Attachments introduced the Bradco Quik Pik Multi-Purpose Grapple for skid steers.
The Quik Pik is a multi-purpose grapple tool that can manage brush, logs, hay bales, rocks and pipe or culverts, as well as standard pallet jobs.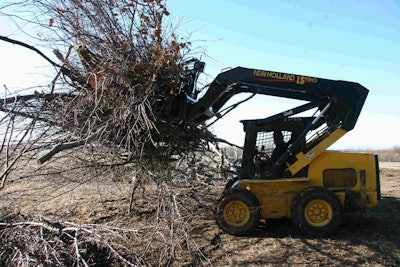 The base unit has a dual hydraulic boom and curved tines, which allow for safe handling of materials. The tines wrap around and against irregular-shaped objects and loads for additional stabilization.
Equipped with a removable Landscape Shoe that provides a platform to stabilize loads against the face-plate, the machine also features optional fork tines and/or brush rake.
The Quik Pik can also use multiple attachments, such as pallet forks, brush grapples, bale spikes, manure forks and log grapples.
The five curved tines are 2.7 inches wide and spaced 3.75 inches apart.
The grapple has a reach of 50.55 inches with a 62.38-inch opening dimension, and the base unit weighs approximately 700 pounds.