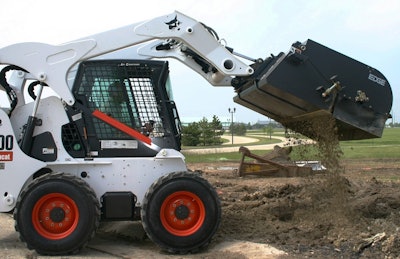 The U.S. Department of Labor's Occupational Safety and Health Administration recently cited two companies after the death of a skid steer operator during the redevelopment of Kyle Field Stadium at Texas A&M University.
Lindamood Demolition and Texas Cutting & Corring were both cited for a total of five violations, including two willful, following the incident.
In OSHA's December 2013 investigation, the organization found that a Lindamood employee was operating a skid steer to support a 3,340-pound concrete stub while a Texas Cutting & Coring employee used a circular saw to cut the stub from its support column.
The stub caused the skid steer to be overloaded, and it tipped over a ramp wall, falling more than 70 feet to the ground.
The loader operator was ejected from the skid steer when the machine struck a horizontal beam during its fall, and the employee died when he fell four stories to the ground.
"These experienced contractors failed to provide employees with safe demolition procedures despite concerns from workers," says Casey Perkins, OSHA's area director in Austin. "Employees had to work under the load and directly beside the skid-steer where they could be struck by the equipment or heavy, concrete debris. This disregard for worker safety is unacceptable and will not be tolerated."
All landscapers should be following proper safety practices and implementing those practices throughout the business, including every jobsite.
There are a variety of safety materials out there to help crews learn how to operate a skid steer safely.
An incident like this can happen on any jobsite, and the key is to not let it happen on yours.