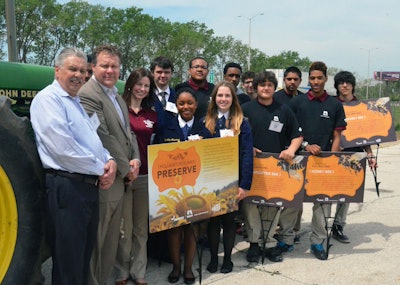 Nufarm and students from the Chicago High School for Agricultural Science (CHAS) partnered with Nufarm's Alsip, Illinois facility to kick off an event that will not only provide an educational opportunity, but also provide a better view for drivers on Interstate 294.
Nufarm representatives and CHAS students planted two varieties of sunflowers for drivers in a 5,000 square-foot plot during a planting ceremony.
The flowers were planted at the Nufarm Alsip facility along I-294.
Additionally, the sunflower plot will be used to provide food and shelter for key pollinators and overwintering birds.
The sunflowers will provide shelter and food to pollinators such as honeybees, leaf cutter bees, bumblebees and mason bees.