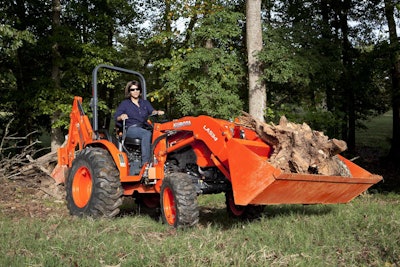 The Kubota Tractor Corporation has introduced three models to its B50-Series compact tractors.
The series will now include newly designed B2650 and B3350 ROPS tractors and the new B3350SU Specialty Unit tractor.
The ROPS tractors feature Kubota diesel engines that meet Tier IV emission regulations.
The B3350 and B3350SU models offer a liquid-cooled E-TVCS (Emissions-Three Vortex Combustion System) engine. The models are also equipped with a Diesel Particulate Filter (DPF).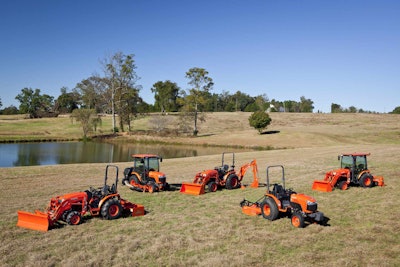 Each model offers the three-range, clutchless HST transmission with low-range, mid-range and high-range settings.
Operators can move between jobs at top travel speeds ranging from approximately 12 mph to more than 14 mph with turf tires.
The B2650 features 19.5 horsepower, and the B3350 and B3350SU feature 27 horsepower.
The series features a variety of attachments, including a front loader, backhoe, mid-mount mower, standard and light material buckets and snow blades.
As far as comfort, the series includes a suspension seat designed to absorb shock, a tilt-steering wheel, as well as an LCD digital panel.
The levers are arranged on the left and right consoles, and switches are concentrated around the instrument panel.
Additionally, the brake pedal is positioned to the left side of the steering column for more right-side foot space and better operation of the HST pedal.
The front grill and newly designed headlamps are integrated into the one-piece metal hood.