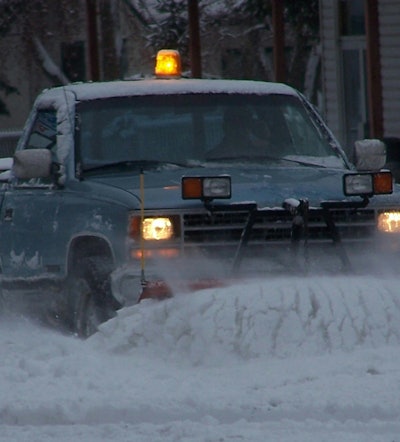 Imagine clearing the roads in the thick of winter. The weather produces whiteout conditions and there is no visibility, yet your crew is able to safely remove snow and allow people, goods and services to begin moving again.
That may soon be possible thanks to research the Federal Highway Administration (FHWA) is conducting.
FHWA is working to produce an advanced, low-cost snow plow visual guidance system that would allow snow fighters to safely operate snow plows in conditions with low- to zero-visibility.
Morgan Kessler, highway research engineer at FHWA's Turner Fairbank Highway Research Center in McLean, Virginia, says the agency wants to "explore current and emerging technologies" similar to a wearable visor or Google Glass that would "provide an enhanced visual and guidance system for human snow plow operators."
The system would likely include locating technology and mapping technology that helps operators know exactly where they are when they have limited visibility.
A listing on Federal Business Opportunities notes that other fields of interest include digital imaging, digital multidimensional mapping, global positioning systems (GPS), radar/LiDAR/forward-looking infrared-based (FLIR) sensing, and related emerging/existing technologies.
The idea for the system came from a meeting of the American Association of State Highway and Transportation Officials' (AASHTO) Subcommittee on Maintenance, during which members established a need for more research on technologies that could improve snowplow operator performance in extreme winter conditions.
Kessler says FHWA wants to implement a technology that would create a safer way for experienced operators to clear roads in such conditions.
"Most roads, they know pretty intimately," Kessler says. "Problems arise when things are obscured by nature – snow, fog, night conditions – and the plow strikes those objects. The hope of the project we're doing is it will eliminate some of the unseen hazards that cause all these problems."
He notes the system would likely provide a view of the road without visual obstructions.
"Even if [the operator] can't see, it would provide a view of what the road should look like," Kessler says. "The intention is that it is highly accurate."
The system is currently in its procurement process, and Kessler says the next step will be a request for proposals, which will offer more details about the system.
Editor's Note: Amanda Bayhi is the Online Managing Editor for sister magazines, Better Roads and Aggregates Manager.