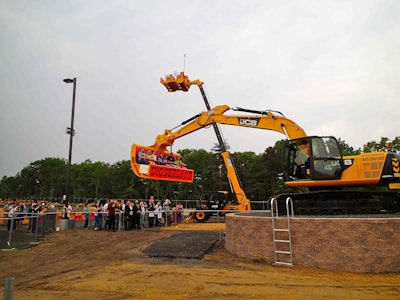 Diggerland USA puts children and adults behind the controls at the country's first construction theme park.
Operating equipment on the jobsite might not seem like a day at the park to most landscapers and their crews. But for West Berlin, New Jersey, residents and visitors, it can be.
Spanning 14 acres, Diggerland USA is a construction-themed adventure park where children and adults alike can ride and operate heavy machinery. It opened June 14 and is located behind Sahara Sam's Oasis, an indoor and outdoor water park with the same owners.
"Kids and adults are all mesmerized by construction equipment," says Ilya Girlya, CEO and owner of Diggerland USA and Sahara Sam's Oasis. "We play with them as kids, we watch them when they drive by and we dream of being able to drive one. That's what makes it so exciting for everyone, including us."
The park has 23 attractions such as the Spin Dizzy, a JCB JS220 excavator that lifts and spins riders, and Sky Shuttle, a modified JCB telehandler that takes guests 50 feet in the area for a panoramic view of the park. The Dig-A-Round, a fun twist on a carousel, incorporates a modified JCB 8065 excavator where riders sit in the buckets.
"When we were young, we loved to play grown-ups – Diggerland USA brings that nostalgia to life," Rushen says. "While many of us played with construction trucks, until now, we could only envision being behind the wheel of a real-life piece of construction equipment. Kids who are playing with Tonka trucks can come to Diggerland USA and actually drive one, the JCB model, and parents who played with them as children now have the opportunity to fulfill the same childhood fantasy."
In addition to the rides, visitors can also get behind the controls for attractions like skid steers, Backhoe Adventure, Mini Land Rovers, Dumper Trucks and Mini Diggers. On the machines, the guests can dig, go bowling, pick up ducks and other fun activities.
Girlya says he enjoys "being able to see children of various ages drive real diggers and the expression on their faces and parents."
There's a 36-inch height requirement for most of the rides, but children shorter than that get in free and can still enjoy a play area, called the KidZone, and an indoor arcade.
Park visitors don't go through formal equipment training, but there are park attendants at each ride to give them instructions, says Sharon Rushen, marketing manager of Diggerland USA and Sahara Sam's Oasis. For Diggerland's rope course – which is the tallest in the world at four stories high – and a 32-foot-tall rock wall, park visitors will have to receive more guidance from trained staff.
While this concept is new to the United States, the first Diggerland Adventure Park opened in April 2000 in Kent, United Kingdom. So, the attractions have been safely tested and operated before bringing the concept to New Jersey.
But like with any project, there were hurdles the Diggerland team had to overcome. Girlya says the biggest challenge was getting approval from the governing bodies that oversee amusement park rides.
As far as opening other parks, Rushen says the company wants to focus on the one in New Jersey before opening additional locations.
Full-day tickets are $29.95 online or $34.95 at the park.