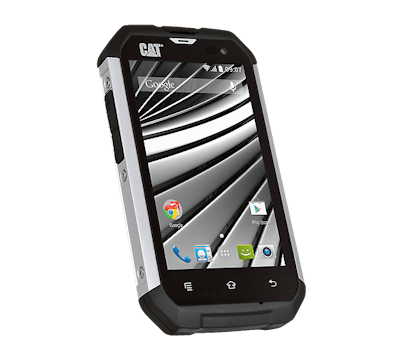 Caterpillar has introduced a new generation of smartphones.
The Cat B15Q is a smartphone that can globally support (4.4) KitKat, the latest version of Android.
The B15Q features a faster core processor, Bluetooth version 4 and LED Flash added to the HD camera.
The phone features a larger speaker and noise canceling dual microphone encased in silver anodized aluminum and shock-absorbent rubber.
Due to the design, the phone can withstand a 5.9 foot drop (1.8m) onto concrete, be submerged in up to 3 feet of water for 30 minutes and endure extreme temperatures from -13 degrees Fahrenheit (-25 degrees Celsius) to 131 degrees Fahrenheit (55 degrees Celsius).
The phone also includes the following applications: Waves Audio for professional studio quality sound tools, SwiftKey to help type faster and OCEARCH global shark tracker.
RELATED: [Video] Caterpillar B15 Smartphone Put to Test
"With the Cat B15Q we have taken consumer feedback on board from its predecessor and added, for example, a faster processor and improved imaging capabilities," says Oliver Schulte, COO of Cat phones.
Cat says the phone will be available in the UK next month but pricing has not been released. However, the price will likely be similar to the same price as its predecessor, the Cat B15, which costs $509.
Features include:
4-inch Touchscreen Display with wet finger tracking
5MP Camera with LED Flash and HD video
Better connectivity – Bluetooth version 4
Music & Video Players
Scratch resistant Corning Gorilla Glass
IP67 certified dust proof