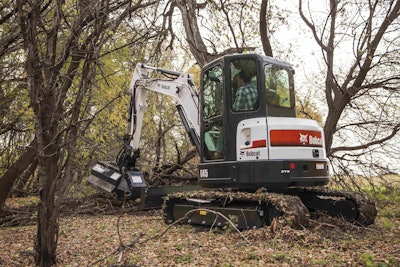 To help with uptime, protection in mowing and land clearing, Bobcat has introduced two flail mowers for Bobcat excavators.
The mowers are ideal for ditches, hillsides, utility right-of-ways, riverbanks, as well as maintenance of parks and recreational trails.
The 30-inch flail mower is designed for use with Bobcat E32 and E35 excavators with hydraulic flows ranging from 12- to 20.7-gpm.
The 40-inch model can be used with the E42, E45, E50 and E55 excavators with hydraulic flows ranging from 14- to 24.1-gpm.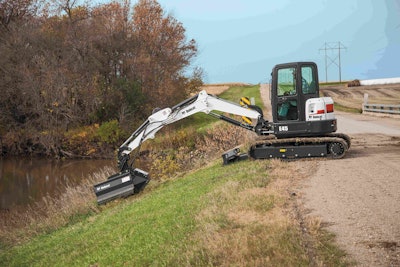 As far as safety, side safety chains help deflect and contain debris within the housing that could be thrown during the operation.
A rotor brake will stop the mower from full speed in seven seconds or less when the flail mower hydraulics are deactivated
Because of a triple-knife design, the mowers can cut through hard and soft woods, vines, grass and brush. The compact deck allows the mowers to manage varying ground contours.
With the flail mowers attached, the excavators can reach up to 21.6 feet tall when using an E55 configured with an extendable arm option.
Reversible flails provide bi-directional rotation by switching the hydraulic hoses at the drive motor.
A rubber torsion disc also absorbs stress forces encountered during operation.
Flanges on both sides of the rotor protect the drive train from dust and debris. These flanges also prevent wire from damaging the drive train mechanism.
QuickLook: Bobcat 30-inch Flail Mower
Weight: 660 lb. (288 kg)
Working Width 30 inches (762 mm)
Overall Width: 50 inches (762 mm)
Cutting Capacity: 4 inches (102 mm)
Hydraulic Flow: 12-20.7 gpm (45-78.4 lpm)
Number of Knives: 27
QuickLook: Bobcat 40-inch Flail Mower
Weight: 805 lb. (365 kg)
Working Width 40 inches (1016 mm)
Overall Width: 60 inches (1524 mm)
Cutting Capacity: 4 inches (102 mm)
Hydraulic Flow: 14-24.1 gpm (53-91.2 lpm)
Number of Knives: 36