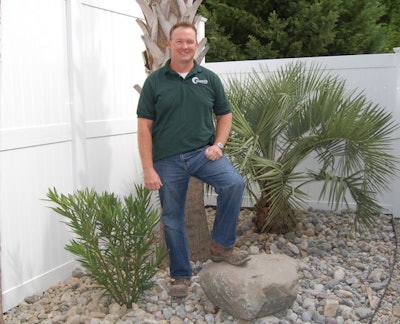 Ever wonder what it takes to run a thriving landscape company?
While there are no quick fixes or mysterious answers, there are things you should be doing to set your business up for success. Watch the video to hear what has helped Matthew Gilligan, owner of Magnolia Landscape in Virginia Beach, Virginia, and a TLC Landscaper of the Year finalist, with his business. [See four of his tips below the video.]
[youtube pzZvuthtWis&feature=youtu.be nolink]
Here are 4 of Gilligan's tips for success
Good partnership. "Mine happens to be my wife," Matt Gilligan says. "Having a good partnership helps take some of the burden of the new and growing business."
Client-focused employees. "Have good employees that reflect your personality and how you want your business to be," he says. "We like to select our foreman as really personable people, really friendly. If a client comes out and has a question, I don't want them to be rash and rude. I want them to be patient, caring and listen to what they say so they can get closer to the clients. If we can become friends with the clients, they'll refer us to their friends. Repeat business is the way to go."
Attention to detail. "I like to use this analogy: Starbucks makes coffee, and anybody can make coffee – but they do it the best," he says. "When it comes to landscaping, anybody can plant flowers or mow the yard, but I want to feel like we do it the best. We pay attention to the details."
Slow and steady growth. "I would love to grow the company as big as possible, but we try to limit our growth to 20 to 25 percent a year. That's a comfortable growth for us," Gilligan says. "You don't want to grow too fast where the quality starts slipping."
Enter by July 31 to be our next Landscaper of the Year.
Read more about Gilligan in the August magazine issue, and check out his project photos here.